Chemical industry in Thailand
Thailand's chemical industry shows increasing edge on the growth curve. German foreign trades association has contributed to the economy of Thailand in the particular field of petrochemical industry. There is more expectation from the chemical industry to get higher investments and increased growth rates. As per the research results of German trade and investment, it is not easy for the chemical industry in Thailand to gain the market. There are numerous organizations and authorities which produce vague data for sale and production report. These make the task of ruling the market even more difficult. To enhance the economy of the Thailand, the German foreign trade association is looking forward to the growth of Chemical industry in Thailand.
High demand of Chemicals in Thailand
There is an expectation of 70 percent growth in the sales of Polyethylene terephthalat also known as PET. According to the sales figure of PET, it can surely climb up and contribute the economy of Thailand. There is one US based company named DuPont plans who is planning to triple their sales in Thailand in the coming decade. The cost of complete sales will be near about 1billion US $.
Thailand marketers of chemical expect growth in all kinds of chemicals virtually. There is also the expectation of agrochemicals and other consumer goods demand. Thai government issued investment of €30 billion for infrastructure projects and logistics. This investment is believed to drive the turnover of chemicals used in the construction field.
Thailand has excellent development in the field of production and also in logistics. There is one of the most vibrant sectors in Thailand i.e. trillion- baht chemical industry. Thailand's trading with foreign clients in the chemical sector has reached to 463 billion baht till the year 2009. While the sales in domestic regions found to be triple. The chemical industry is in supporting role for other sectors like plastics, food processing, textiles, detergents, automotive, furniture, water purifier and pharmaceuticals.
Many providers from all over the world and also the homegrown investors operate in Thailand. This investor list includes Thai Tank Terminal, TPI, ExxonMobil, SCG, Rayong Olefins, Dow, PTT, Mitsubishi and the world's largest chemical manufacturer, BASF. BASF has the history of working for more than 40 years in Thailand. PTT is the top petrochemical producers in Thailand. They also produce plastic resins. While SCG Chemicals Co. Ltd. Is the big name in manufacturing polyolefins in Southeast Asia and Thailand.
.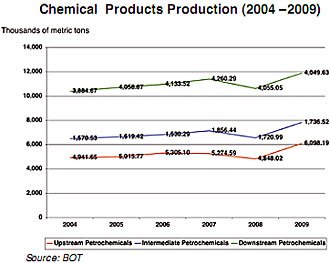 Thailand is the manufacturer of the complete alphabet of chemical products from acrylonitrile butadiene styrene to zirconium silicate. Thailand is the top manufacturer of fertilizers, dyestuffs, adhesives, paints, acids, film product, UV coatings and many other substances. In 2009 Thailand produced 3.06 million tons mn tpa for xylene, 1.87mn tpa for benzene, 2.53mn tpa for ethylene, 1.28mn tpa for high-density polyethylene, .26mn tpa for propylene, 960,000tpa of polyvinylchloride, 785,000tpa of ethylene dichloride and 1.58mn tpa for polypropylene. Thailand makes yearly 295,000tpa of butadiene, 860,000 tpa of polyethylene terephthalate and 545,000tpa of styrene.
Growth structure of Thailand Chemical Industry
The industry structure is influenced by the companies in end product sector. In the end product sector producing price is lesser as compared to the basic chemicals sector. The basic chemicals sectors require heavier quantity energy and raw materials. According to the Office Industrial Economics (OIE), end product structure produces reports for about 75% of Thailand's chemical output. The raw materials needed by factories are generally imported which makes the cost of raw materials expensive. The factories in chemical sectors are operated in 24 hours in a day this makes the cost of energy considerable. Some basic chemicals are accelerated by chloralkali sector whose annual chemicals production of 850,000 metric tons, chlorine with 750,000 and sulfuric acid at 650,000.
At the end of many years, the Thai government has made all the possible things to develop the chemical industry in Thailand. The foreign firms which are looking forward to situating their works in Thailand, the Thailand board of investments (BOI) continuously offers non-tax and zone base tax motivations. These consist of land ownership rights, corporate tax holidays and reduced machinery import duties. Thai government controls and supports the chemical industry. Similar to government the private sector firms like as the Federation of Thai Industries (FTI) encourage the attentiveness of local enterprises.
The FTI's chemical industry federation club was constituted more than 30 years ago. It is the second largest federation club which consists of 150 members. FTI has its five subgroups, which are basic chemicals, dyestuffs and paints, soaps and detergents, agro- chemicals, and other types.   The FTI group encourages has another separate group under its Petroleum Industry Club. This club encourages the Petrochemical industry and plastic industries. While a resilient time of several years, new projects were organized frequently in Thailand's chemical industry to enlarge the capacity of steady tread. The chemical industry in Thailand was a slowdown in the year 2009 which aimed the global crisis. Chemical products imported by Thailand were fallen about 9.78% y-o-y to 349 billion baht. Chemicals exported by Thailand were 114 billion baht which were lower as compared to the year 2008.
Market investigation observes new capacities of ethylene, propylene, and benzene which are approaching on-stream this year. Especially rapid expansion has seen in the petrochemical industry business, with Thai government nowadays in the third gesture of its 2004-2018 development plan for this specified sector. In 2008 the OIE place the Thailand's petrochemical sales at 435.4 billion baht, with exports accounting for more than half as Thailand makers benefit from closeness with china's large petrochemical market and the ASEAN Free Trade Area or AFTA.
Now, many of the Thailand's petrochemical suppliers carries out their production in the map Ta Phut Industrial Estate of Rayong Providence on the Eastern Seaboard,in spite of the fact that the national capital Bangkok at 220 km apart by roads remain a notable center. The petrochemical industry launched when huge reserves of natural gas found in the Gulf of Thailand throughout the 1970s. To increase the growth potential, the government introduced the Eastern Seaboard Development Program. The program is ruled by Industrial Estate Authority of Thailand (IEAT). Within map Ta Phut, the Eastern Industrial Area is a clump for various heavy industry companies; it also includes petrochemical and chemical producers. The country's infrastructure, utility provision, water capacity, waste- water treatment capability and location are just 2 kilometers from the Map Ta Phut Deep Sea Port are properly suitable to the manufacture. In addition to this, Thailand's eastern region is home to various big industrial properties.
Country's chemical product providers predict a mostly bright path ahead with some dares to sail across. The global economic re-energize and free trade agreements with several countries will encourage the chance for increasing their business. Thailand's firms should share out with harder environmental regulations in Asia, the European Union and other dealers.
These are some activities which are permitted for Thailand BOI promotion should be granted to both tax and non-tax incentives if they are situated in either Chonburi or Rayong to as stated by the new Thailand BOI cluster policy.
Eco- friendly Chemicals or Polymers; or Products Made from Eco-friendly Polymers
Specialty Polymers or Specialty Chemicals
Bio-plastic coated Paper Packaging
BOI of Thailand permits this special welfare to upgraded events:
8- Years collective income tax immunity and an additional to it, 5- years 50% tax reduction.
Import responsibility exception on machinery
Deliberation of permitting Permanent Residence to a chief
Granting for foreigners to purchase land to execute the promoted events.
The business of producer of eco- friendly chemicals or polymers, or manufacture of goods from eco-friendly chemicals or polymers that is included within the identical project as the maker of eco-friendly chemicals or polymers, should be approved by the BOI should have the following conditions:
Throughout the lifetime of the chemicals or polymers must not have an overall clash on the environment. These products should be allowed or can be proved to use raw materials from renewable resources, or use acceptable green chemistry in the making process, the products should be biodegradable and they should not generate toxic substances.
It must be gauged with a globally- accepted standard like the Life Cycle Assessments (LCA) etc. before the start-up date of that whole operation.
If the above businesses are not situated in Chonburi or Rayong, generally will be permitted the following Thailand BOI benefits:
Income tax exemption of 8 years, not more than 100% of investment ( besides cost of land and working capital)
The exception of import duty on machinery.
Exemption of import duty on raw materials or essential materials which are used in making of export products for 1 year, which can be enlarged as considered appropriate by Board of Investment.
Other various non-tax incentives.
OIE report of chemical industry in Thailand
As mentioned in OIE report there are many chemical manufacturers in Thailand which produce a large variety of chemical products, so that the industry plays a vital role in Thailand's economy growth. Materials which are produced in the industry are generally used as raw materials in the manufacturing of finished products in many of the factories, with basic chemical products that are necessary for the in-between production of other more recent chemical products.
The report states that "In 2011, chemical imports (HS Code 28-38, except 30, 35 and 36) had a total value of roughly 467 billion baht, which is more than of 22.62% from the foregoing year. On the other hand, chemical exports (HS Code 28-38, except 30, 35 and 36) had a total value of 203 billion baht, which is more than of 22. 89% from the previous year."
All inclusive drift for Thailand's petrochemical industry in 2012 is for uninterrupted development as the result of the Thailand's post-flood restoration, led by the restoration and confidence stimulation program from the manufacturing sector. it is expected from the private and household sectors to increase their expenditure to restore business and housing, which may increase the demand for The government of Thailand also restorative domestic expenditure. The financial crisis of US and Public debt crisis in the European Union is not expected to remarkably impact on Thailand's petrochemical industry. Because it's petrochemical industry has primary markets in Asia, similarly China, India, and Vietnam, all of which had a large growth in demands of products, which results in high demand for petrochemicals as the raw materials manufacturers.

About chemical industry in Thailand:
The chemical industry in Thailand has grown rapidly. The petrochemical industry has seen improving the economy of the country. According to the Germany trade and invest, growing the market of the chemical industry is not easy. Chemicals produced Thailand are paint, ink, rubber and plastic , coatings, links, extenders, fillers, hardeners, resin, pigments, titanium dioxide, carbon black, white carbon, synthetic rubber, etc. the chemical industry in Thailand manufacture the products from using raw material and renewable resources. These goods are exported to generate a final product from the chemical products. The industry also produces chloralkali, epichlorohydrin, epoxy resins, phosphates, and sulfates. The industries in Thailand are well certified and the result of product manufactured by them is always achieving good review from BOI. BOI permitted the activities for the following products, the production of products must utilize a chemical process; the products include- magnesium hydroxide, potassium hydroxide, ammonium Sulphate, calcium carbide, calcium chloride, magnesium chloride, potassium chloride, sodium silicate, ethyl alcohol, acetic acid, citric acid, glutamic acid, hexahydro alcohol (sorbitol), polyether polyol, chlorinated paraffin, formaldehyde, etc.
The production of chemicals such as industrial gases, calcium oxide, silicon dioxide, zinc oxide, calcium hydroxide, aluminum sulphate, potassium aluminum sulphate, calcium carbonate, calcium phosphate, sodium hypochlorite, calcium hypochlorite, paraffin & wax, etc must utilize a chemical process and manufacture of silicone monomer and polymer is regarded as a priority activity of special importance and benefit to the country and promoted projects will not be subject to any cap on the amount of corporate income tax exemption.