ASEAN Advantages

– Useful Information about Asean Countries
ASEAN is a close-knit community established between few countries in the Asian region for better mutual co-operation in the social and
commercial ways of life. Today, ASEAN provides great opportunities for business investors and promises to deliver to their expectations. Doing
business in Thailand can be considered pivotal to exploit the ASEAN landscape and it's advantages.
ASEAN Overview
The Association of Southeast Asian Nations, or ASEAN, was established on 8 August 1967 in Bangkok, Thailand, with Indonesia, Malaysia, Philippines, Singapore, and Thailand, joining hands initially. Since then ASEAN has made good strides in regional integration and cooperation by unique modes of governance and adding Brunei, Vietnam, Myanmar, Lao, and Cambodia as members. The social and economic integration initiatives are in their early stages and we all hope that real regional cooperation continues to grow.
According to the ASEAN Declaration, the aim and purpose of ASEAN is:
To accelerate the economic growth, social progress and cultural development in the region through joint endeavors in the spirit of equality and partnership in order to strengthen the foundation for a prosperous and peaceful community of Southeast Asian Nations;
To promote regional peace and stability through abiding respect for justice and the rule of law in the relationship among countries of the region and adherence to the principles of the United Nations Charter;
To promote active collaboration and mutual assistance on matters of common interest in the economic, social, cultural, technical, scientific, and administrative fields;
To provide assistance to each other in the form of training and research facilities in the educational, professional, technical and administrative spheres;
To collaborate more effectively for the greater utilization of their agriculture and industries, the expansion of their trade, including the study of the problems of international commodity trade, the improvement of their transportation and communications facilities and the raising of the living standards of their peoples;
To promote Southeast Asian studies; and
To maintain close and beneficial cooperation with existing international and regional organizations with similar aims and purposes, and explore all avenues for even closer cooperation among themselves.
ASEAN the upcoming Business Hub
ASEAN region which has been solely dependent on export for their growth over the past is now trying to rebalance their economies with the help of local demand as part of an intentionally planned move-in their business development in Asia and other regions and growth strategies. Without a doubt, most of the ASEAN economies are showing remarkable growth and the investment projections appear to be strong.
ASEAN at present is a trade-focused block and it is anticipated that the thrust will continue in the coming decades ahead, with the rich supplies of resources and well-established industrial
base which would be further improved by AEC. With the promise of a single production podium and an integrated market, the drive for intra and inter-ASEAN trade will get thrust and will hold the key for the future.
However, due to the fluctuations in demand globally, there are risks and numerous concern which are continuously growing related region's growth. It requires ASEAN to foster and bridge the gaps which remain between the members and follow some rigorous policies to bolster growth.
For any business support in the ASEAN region, please contact us for a free consultation by our startup specialists.
Top 10 Insights on ASEAN Region
Economic Powerhouse:
Gross domestic product of the ASEAN countries from 2010 to 2020. In 2019, the estimated total GDP of all ASEAN states amounted to approximately 9.34 trillion international dollars, a significant increase from the previous years. In fact, the GDP of the ASEAN region has been skyrocketing for a few years now, reflecting the region's thriving economyASEAN is projected to be the fourth-largest economy by the year 2050. ASEAN is home to more than 650 million people and with its labor force and consistent productivity improvements can drive the GDP to higher levels. ASEAN labor power is the third-largest in the world after China and India
Economic Stability:
ASEAN has seen the global downturn of 2008 and again in 2020. But it had remained unaffected and remarkably resilient then and hopefully even now. Today, ASEAN is much stronger financially with government debt below 50 percent of its GDP, which is much lower as compared to the United Kingdom where the debt is 90 percent of its GDP or United where the score stands at a whopping 105 percent. Furthermore, most of the ASEAN's region has remained steady despite various concerns over the possible end of quantitative easing by the US Federal Reserve. In contrast, ASEAN has seen lower volatility than the European Union with respect to economic growth. Even the savings levels have been fairly stable within the region.
Consumer demand hub:
The region has 69 million households which are part of the consuming class, which is expected to double by 2025, making ASEAN one of the biggest consumer markets for businesses globally. The cities in the region are booming and more than 22 percent of the total population resided in the cities. Urbanization is on the rise and the urban population accounts for more than 54 percent of the total GDP.
Online consumer presence:
With an internet penetration of 25 percent and mobile penetration of massive 110 percent, consumers are moving online at an increasing pace. For instance, it has the second-largest Facebook user community after the United States. It also has some highly advanced consumers in regions like Singapore, which has the fourth-highest mobile penetration in the world and nearly 75 percent of its total population remains online.

Globally well positioned:
Trailing by North America, the European Union, and China, ASEAN is the fourth largest exporter in the world, accounting for nearly 7 percent of all the global exports taken together. Most of its member nations have sophisticated manufacturing setup and have been performing reasonably well. For instance, Malaysia and Singapore are leading the electronics export, Thailand is gearing the automotive parts and vehicles, and Vietnam specializing in apparel and textiles. Apart from these member nations, you have Indonesia which is now a leading producer and exporter of palm oil, the Philippines which is thriving with its business startup consulting and outsourcing industry along with Myanmar with its vast reserves of gas, oil, and precious minerals.
ASEAN has now replaced China's dominance in the global market as a premier exporter.
Inter-regional Trade:
With better integration and implementation of various cross-border trade policies, ASEAN is expected to have a smoother and healthy flow of goods and services across its borders. It has also expanded its trade with various free-trade agreements with countries like China, Australia, India, New Zealand, Japan, and South Korea.
Home to global businesses:
ASEAN is home to most of the biggest companies in the world. ASEAN has more than 227 global companies having revenue of more than $1 billion. Singapore is ranked fifth in the world in terms of having the most number of corporate headquarters.
Foreign Direct Investment (FDI):
FDI has been booming in the region and has attracted nearly $128 billion in 2013 as compared to China's $117 billion. Not just foreign corporates, ASEAN is now a Launchpad for many of the new companies. With its distinct cultures, languages, and histories, its ten member nations share a focus on economic development and mutual prosperity. ASEAN's household purchasing power is on the rise which is assisting the region is approaching a higher level of consumer growth.
Exceptionally diversified:
ASEAN is home to the world's most diversified population. Indonesia has the world's largest Muslim population with nearly 90 percent of its people belongs to the Islamic faith. The Philippines has more than 80 percent Roman Catholic whereas Thailand comprises 95 percent of Buddhists. Having such a diverse yet unified economy provides uniqueness to this region.
Biodiversity:
ASEAN as a region occupies about only 3 percent of global landmass but has more than 20 percent of all the known species living deep in its jungles, mountains, lakes, rivers, and seas.
Thailand – The Startup Destination in Asean
Thailand was one of the five founding members of ASEAN and is instrumental in forming and developing the ASEAN Free Trade Area (AFTA). With six primary members (Singapore, Thailand, Indonesia, Philippines, Malaysia, and Brunei) AFTA came into force on 1 January 2010 thereby dipping the import duties to nil. Thailand has been a cost-competitive and cost-effective location for investors and offers expatriates' quality lifestyle. Thailand also offers a welcoming culture with a positive business regulatory framework along with a healthier macroeconomic environment.
We try to list down some of the reasons to understand why starting a business in Thailand is rewarding:
Strong business framework – Thailand is known for its well-established infrastructure, pro-investment policies, and free-trade economy. With an average growth rate of 4 percent, Thailand is experiencing steady growth since 2000.
Better trade relations – Thailand celebrated the175th anniversary of its business alliance with the United States in 2008 and is the 23rd largest trading partner for the United States.
Ease of doing business – It has been ranked 13th as the easiest place of doing business in the world. It is also considered as one of the chief destinations for Foreign Direct Investment (FDI). Thailand has also been ranked 11th globally for protecting investors' interest, 10th for cross-border trading and 25th for enforcing contracts. Hence, doing business in Thailand is now easier and less complicated.
Attractive tax rates – Thailand offers low corporate taxes, ranging from 30 percent down to 10 percent based on various criteria which include profits, status under the Thai law and company listing on the Stock Exchange of Thailand. Additionally, the Investment Board provides several investment incentives that significantly shrink and reduce tax liabilities.
Modern Infrastructure – If you are looking to set up a business, Thailand is one of the best choices for you.
Furthermore, if you are an entrepreneur having a global presence and looking for a centralized office, Asia, particularly Thailand is the ultimate destination due to its low-cost of operation. Thailand is a comfortable place for living with readily accessible high-speed internet and all around WiFiavailable everywhere you go.
Starting a business in Thailand is considerably easier in terms of dealings, duration and cost paralleled to China, India, Malaysia, and Vietnam. Fewer startup hurdles in Thailand permit businesses and entrepreneurs to swiftly place their resources to fruitful uses. Thailand entails the lowermost number of processes with the shortest time to register and do business in Thailand.
It required only two procedures, two days and costs 6 percent of the business value for registering property. Starting a company in Thailand also competes favorably with fewer business start-up requirements. Further, the Thailand market economy was considered for the highest index for financial information and disclosure of ownership to investors by the World Bank. Regulations in Thailand require businesses to reveal ownership information, such as beneficial and indirect ownership, family, financial performance and the exact nature of transactions related to business. By encouraging and enforcing transparency and also legal protection from expropriation aids foreign investors in Thailand and creates more business opportunities in Thailand.
Boutique Business Consulting firms like Startup in Thailand knits the ASEAN region by assisting them to do business with a complete 360 degrees approach which encompasses all kind of business startup services like Startup Consulting| Thailand Market Entry | Legal assistance | Serviced Office | Factory Setup | Representation | Recruitment Services | Accounting| Operations| Buying & Sourcing| Distribution | Sales & Marketing | Regional Business Development | Management
Contact us if you need any assistance.
ASEAN Outlook – Growth Prospects
ASEAN's Economy is Projected to Grow by over 5.5% per Year and Become the 4th Largest Economy in the World by 2050. With a projected annual growth rate of over 5.5% per year, ASEAN is forecast to overtake the EU and Japan to become the 4th largest economy in the world by 2050, behind China, India, and the United States.
According to the latest outlook of The Asian Development Bank, regional economic growth in developing Asia will decline sharply this year amid the COVID-19 outbreak. The report forecasts regional growth of 2.2 percent in 2020, down more than three percent from earlier predictions. However, growth is expected to rebound to more than six percent in 2021, if the world returns to normal. Excluding the newly industrialized economies of Hong Kong, China (PRC); the Republic of Korea; Singapore; and Taiwan, developing Asia is forecast to grow 2.4 percent this year, compared to 5.7 percent in 2019, before rebounding to 6.7 percent next year.
For those doing business in the Asia region, the numbers are impressive which demonstrates the region's growth. Its metropolitan population is rising by around 2.2 percent annually, whereas the population of the middle-class is set to surge to 194 million by 2020.
In an article "UN ESCAP's Role in Supporting the 2025 ASEAN Vision" by Dr. Armida Salsiah Alisjahbana, underscores the complementarity between the ASEAN Community Vision 2025 and the United Nations 2030 Agenda for Sustainable Development. Dr. Alisjahbana further argues that moving forward, there is an opportunity to combine the collective knowledge of both the ASEAN and ESCAP secretariats to enable AMS to navigate better their future, which will be highly influenced by emerging phenomena such as the Fourth Industrial Revolution.
Southeast Asia has one of the most comprehensive sub-regional agendas captured by the ASEAN Community societies and a human-based approach to sustainable development.
ASEAN and the UN have come together with the support and facilitative role of Thailand's 2019 ASEAN Chairmanship, which is on Advancing Partnership for Sustainability. In the Framework of Action on Complementarities between the ASEAN Community Vision 2025 and the United Nations 2030 Agenda, two proposed flagship areas of cooperation have been identified, namely the greening of SMEs in AMS and the establishment of an ASEAN resources panel to steer research and policy advocacy work for the sustainable management of natural resources.
Amid all the uncertainties in the global economic environment, ASEAN remains a stalwart of multilateralism and continues to deepen its economic integration agenda, both within and outside the region. In advancing regional development, ASEAN has also started to leverage on the Fourth Industrial Revolution, and the ensuing innovation and application of new technologies
Transformation in Retail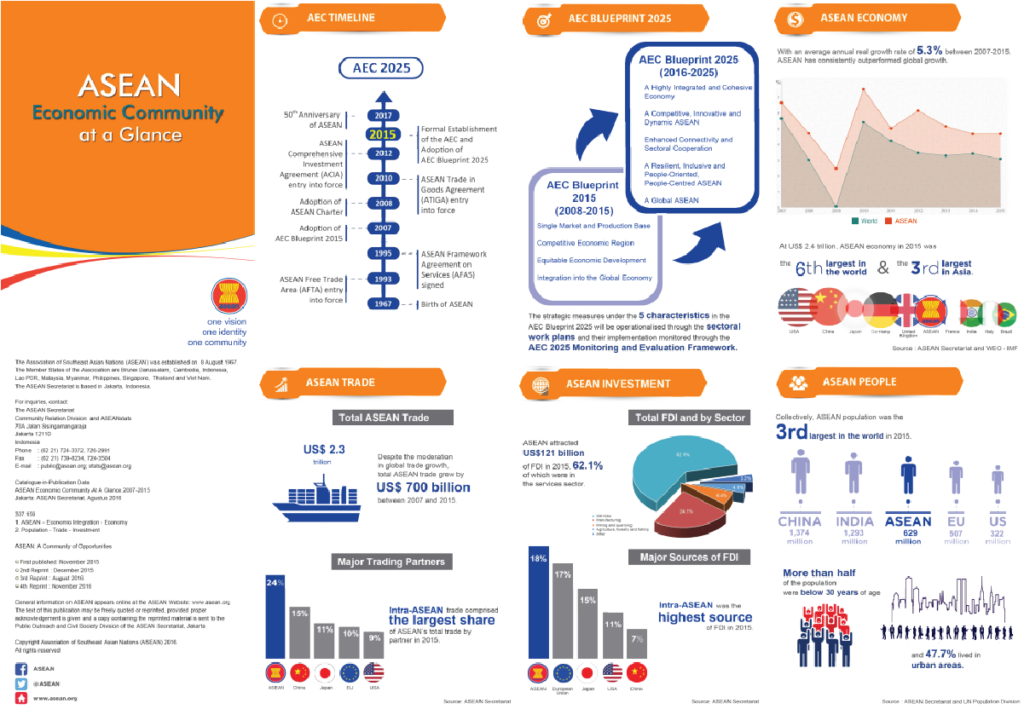 In developed ASEAN markets, retail through online sales has already been up 5 to 15 percent of the total; with retail per capita has increased dramatically. South-East Asia is achieving higher online shopping penetration than in other developed marketplaces such as the UK and the US. As per the research conducted by Bain & Company, 50 to 90 percent of customers in South-East Asia who are residing outside cities are avoiding their PCs and are using mobile phones for online shopping. The Asean Consumer in 2030
Infrastructure and Traffic Management
Mass rapid transportation development projects are under construction in Kuala Lumpur, Singapore, Manila, Jakarta and Bangkok which will raise rail length by 50 percent by 2022. With respect to real estate, it will generate newer centers, new opportunities for investment and the prospects to build mixed-use innovative developments that will enable people's capability to work, live and play much easier.
Newer skills and technologies with new uses for present technologies make it possible in transforming the movement within cities. Autonomous driving, intelligent traffic management, and car-sharing are projected to streamline overcrowding and boost mobility. Traffic jams in cities such as Manila and Jakarta are renowned which is due to insufficient investment in projects related to mass rail transit. Though, platforms like Grab, Uber, and Waze are permitting mobile-phone data in order to improve efforts by the government in traffic management.
Innovation at Work
Serviced office and co-working space presently accounts for 1 to 5 percent of total Asia offices in developed ASEAN cities and is mounting rapidly due to the flexible working, freelancing, and sharing economy. It is estimated that in South-East Asia co-working spaces would make up 10 to 15 percent of the total by 2030.
With regard to work, demand for offices will change because of larger outsourcing coming from the developed markets, rise in co-working spaces, and more elastic work practices. Even though the growth of worldwide office demand reduced subsequently after the financial crisis, the region has resisted the trend. It is expected that office demand will grow by 6 percent per year till 2022 due to a growing economy which in turn will spur outsourcing from the developed markets and will raise the middle class.
Startup in Thailand offers fully serviced office space in the heart of Bangkok. Read more about how to Outsource your business in Thailand. Contact Startup in Thailand for a free business consultation now.
ASEAN – Next Steps
ASEAN is determined to board on a long-term and bold strategy to improve its logistics connectivity in order to operate in a seamless and efficient manner towards its journey to economic integration. On the execution of the ASEAN Economic Community, the total region will reap benefits out of this single production and the single market. Though, the profits are not predicted to be equal among its member countries nor within the provinces inside the member countries. It is surely a win-win position but subjects to the perception taken, the AEC's appeal to each ASEAN country might be not the same.
For example, if businesses choose to select the expected GDP growth as a crucial factor then Myanmar would be a key target market for upcoming expansion. However, that factor might not be the really convincing since Myanmar begins with a lower GDP level as compared to other member countries. Therefore, facilitation environment and infrastructure have a great influence on a country's development and economic prospects.
Master Plan on ASEAN Connectivity (MPAC)
The MPAC is intended to allow the AEC and enhance ASEAN's inner integration with the help of improved infrastructure development, efficient and effective international institutional measures as well as connectivity for the citizens. The plan is founded on the key principles listed below:
Aid in accelerating existing ASEAN enterprises and accompaniment the building process by ASEAN Community;
Adopt win-win measures in reflecting the welfare of all Member States of ASEAN;
Ensuring synchronization of continuous sector plans and policies within the contexts of ASEAN and also its sub-regions;
Striving for a balance between national and regional interests;
Strengthening the connectivity between archipelagic and mainland Southeast Asia;
Outward-looking and serving to endorse vigorous competitive dynamic forces among outside partners and also help in preserving the significance of ASEAN; and
Viable in practice with strong financial mobilization models, with the participation of the private sector.
The final result would be that distribution and production grids in ASEAN will be extended and deepened with respect to logistics assimilation, broadened with more products and commodities being traded competitively, and finally, become much more ingrained in supply chains globally.
Also significantly, improved ASEAN logistics integration would taper growth gaps within the ASEAN region expanse. It will also help in increasing greater investment opportunities, growth and trade lagging regions within nations in ASEAN.
Read More: Is this the right time to start a business in the ASEAN region?
Contact Startup in Thailand for a free business consultation.
Also check out the FAQ page for a quick overview of the critical factors to consider before starting a new business in Thailand.
Read more:
Startup Business Options in Thailand,
Legal Assistance in Thailand, Business Development in Thailand/Asia,
Japanese Investments to increase in Thailand
What is the Real Estate Scenario in Thailand
Why Thailand Is A Good Business Destination
Business in Thailand – How Different it is from Rest of the World
Thailand reforming itself for doing business easier in Thailand
Growth of Startups in Thailand and Future Outlook
What you should consider before doing business in SE Asia
A Challenging Baht for the Thai Economy in 2020
10 Key Steps to endure your Startup success in Asia
Contact Startup in Thailand

with your initiatives and get a free consultation.