Thailand's vibrant automotive industry offers foreign OEMs (Original Equipment Manufacturer) competition and a vast network of supporting industries. As Thailand continues to expand its automotive manufacturing base, the presence of auto part suppliers is increasing – setting up R&D (Research and Development) departments to better serve their customers.
Thailand's Motor Vehicle Production Over the Years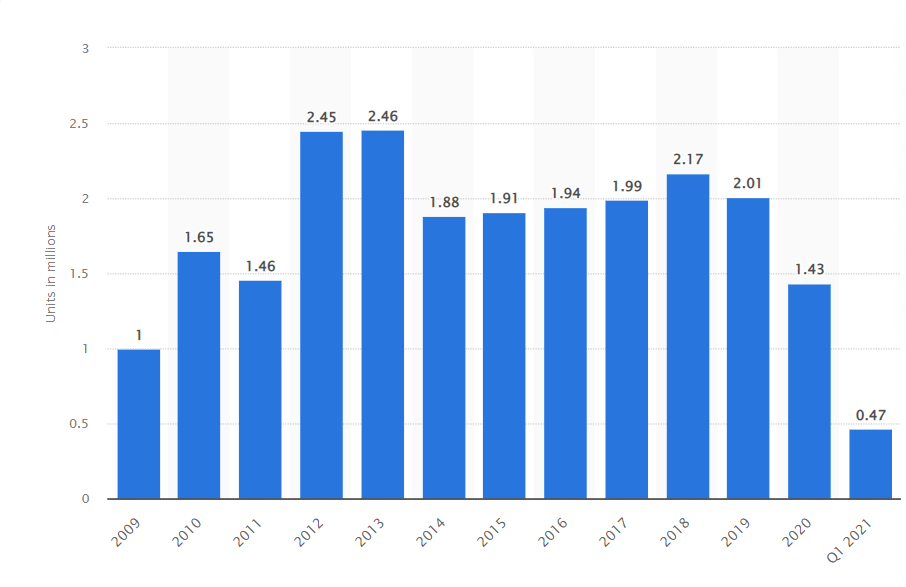 With one of the major markets for automobiles in Southeast Asia, Thailand's vehicle production reached around 470k units in Q1 of 2021. Compared to other ASEAN countries, Thailand was the leader in the production of motor vehicles in 2020. Thailand's production surpassed Malaysia and Indonesia in production volume.
The Federation of Thai Industries (FTI) expects the production of automobiles in 2022 to be approximately 1.7 to 1.8 million units, with domestic sales in the range of 800k – 850k units and overall exports of 900k – 950k units.
Thailand continues to be the central auto-motive hub within the South East Asian region, with the best-in-class automotive supply and logistics chain. Whilst the auto industry suffered significantly in the last few years, the underlying trend suggests that the Thai auto industry is back on the growth track.
Thailand 4.0 Scheme to Boost Innovation
Thailand has responded to the Fourth Industrial Revolution happening globally by establishing its new economic model under the Thailand 4.0 scheme that is based on an innovation-driven economy.
Thailand 4.0 Scheme
Thailand 4.0 readiness has identified its auto industry as the largest beneficiary of this innovation leaden drive due to its well-established infrastructure and skilled personnel as the auto manufacturing hub for several foreign automakers.
Major Automotive Players in Thailand
At present, there is a lot of foreign investment in Thailand from mainland China, Japan and South Korea. The country's Eastern Economic Corridor Office of Thailand (EEC) aims to promote investment opportunities in Thailand for industries that are considered to be a driving force for the sustainable economic growth of the country. And among the key areas of further development is the technological and innovative advancements in its automotive sector.
The country has developed from an automotive component assembler into a top automotive producing and exporting hub. Thailand today ships the country manufactured vehicles to over 100 countries globally.
Market Share in Thailand by OEM
Thailand has an established presence of almost all the global leading automotive manufacturers, assemblers as well as component makers. Companies such as Toyota, Honda, Mitsubishi, Isuzu, BMW and Nissan together account for the largest share of the roughly two million vehicles produced in Thailand annually.
Supply Chain Operational Shifts
Since automotive components are difficult to transport, the shift to manufacturing these parts locally helps and expedites the supply chain. Due to this shift, both the cost of transportation costs as well as the time to deliver them are reduced. Companies within Thailand are shifting locally due to the saving in resources from the accelerated supply chain. Additionally, a shift in the country's automotive industry is its rise in the scale of production; once a specific level of local output is achieved, localisation becomes cheaper and more efficient than importing from abroad. In Thailand, this shift has been apparent; in short, the Thai automotive industry's supply chain has streamlined and has become much more efficient in the last few years owing to its technological advancements and localisation.
Thailand's Board of Investment (BOI) Initiatives
The auto industry has been experiencing a gradual shift in Thailand from a manufacturing to a high-value manufacturing economy after all the efforts it has put into promoting the use of science, innovation and advanced technology. In parallel to this, Thailand has also ensured the development of infrastructure and the right ecosystem for driving business opportunities in Thailand in its auto sector.
Thailand's BOI has supported Thailand's economic transformation by incessantly improving its promotional incentives for strengthening the country's position as a preferred investment destination for automakers. The BOI's incentives have enhanced the business competitiveness in Thailand as many start up business in Thailand are offering technological disruption to the Thai auto sector.
Thanks to the Thai startup ecosystem and BOI initiatives ranging from infrastructure development to continuous government support and attractive promotional measures, the country has welcomed investments over THB 900 Bn alone baht in 2018.
The Thai government is planning to incentivize people to purchase EVs by establishing a fund for subsidizing up to 20 per cent of the EV prices. Also, they're increasing the taxes on almost all motor vehicles, including passenger cars, hybrids, eco-cars, and plug-in hybrids, for allowing different vehicle tax rates for EVs. 
Growing Hub for Electronic Vehicles (EV)
The government of Thailand has ambitious plans to turn the country into a Southeast Asian manufacturing hub of electric vehicles. Big companies in Thailand are preparing to invest considerably in a greener transportation mode after the National Electric Vehicle Policy Committee suggested that by 2030
Thailand's 50% total auto production would be comprised of electric vehicles.
The message to auto manufacturers and business outsourcing companies is to grab the business opportunities Thailand is offering in the necessary infrastructure for supporting electric vehicles. As per BOI the investment in EV production and its infrastructure reached crossed THB 79 Bn between 2017 and 2019. This figure is projected to rise at a faster pace over the next 3-5 years.
Toyota has the first-mover advantage as it was the first auto manufacturer to make EVs in Thailand. The number of EV manufacturers in the country is increasing including auto parts makers, those are gradually switching to produce EV parts which would create supply chains ready for the development of the EV ecosystem.
The global demand for EVs is growing. Globally, the number of electric vehicles is expected to rise to 35% of overall vehicle consumption by 2040. To help spur the auto industry, the Thai government is actively promoting foreign manufacturers to the country as their base for the production of EVs in the region. Thailand's BOI is also offering generous tax incentives to auto manufacturers as well as the auto parts industry.
Supporting Technological Advancement in EVs
Thailand's NSTDA (National Science and Technology Development Agency) is entrusted with the crucial task of accelerating technology and innovation development for enhancing Thailand's competitiveness in the global EV market. NSTDA has been working in tandem with partners from the government, private, academic and non-government sectors, both at domestic as well as at international levels.
The Thai government's policy and goals on electric vehicles are becoming more concrete, such as offering support for operators willing to install vehicle charging stations. The Thai government has also set a rate of THB 2.6 per unit for electricity charging across Thailand, which is comparatively cheaper than home electricity rates. The support also BOI privileges designed to encourage starting a business in Thailand in high-tech automotive parts like battery parts, power electronics devices, electric motors and charging stations.
The policy of NSTDA is to comprehensively support the EV technology and to grow the advanced knowledge among the agency personnel on designing, developing, and testing the EV parts, and built units that could be key potentials in the global niche market of EVs.
Conclusion
Such an optimistic outlook bodes well for automakers, ancillary companies and high-tech industries. As the country gears up to enter the Thailand 4.0 area, system suppliers and equipment makers would find a lot of business opportunities in Thailand in helping manufacturers in upgrading their manufacturing capabilities, further improving their efficiencies and quality, and taking their production to the next level.
The initial trend of a solid transformation is already taking shape, with BOI's attractive incentives serving as a crucial catalyst. The success of these innovative companies will inspire locals to open small business in Thailand. With this rise, foreign businesses would explore investment opportunities in Thailand and indigenous businesses would follow in their footsteps. When a change comes on a large scale, an economic transformation follows, thus enhancing national competitiveness.