Thailand: ASEAN's Key Logistics Hub
Thailand's logistic market offering opportunities for companies located overseas as it is getting popularity as a regional supply chain management hub.
Thailand is the main ASEAN transport point and also a logistic hub. Thailand is located in Indochina and the Mainland Southeast Asia. It has Myanmar, Laos, Cambodia and Malaysia as its neighbor countries. Many foreign-based manufacturing companies want to set up their production in Greater Mekong Sub-region (GMS). They are particularly targeting Vietnam and Myanmar as their manufacturing location to reduce product cost for Asian countries. It is the result of raised product cost in ASEAN countries like China. 
The search for alternative manufacturing bases in Southeast Asia, however, has not diminished Thailand's role as a regional manufacturing powerhouse, while it also fulfills the role of a key logistics hub for Indochina. Thailand's GDP has the largest share of export accounts and exports account of the whole country has 80% shares of manufacturing sector. Thailand is the largest automotive producer in ASEAN countries. It is also trading bloc's leader in supplier countries for supplying electronics and its components. This supplied material then processed in other ASEAN countries. Thailand is the leading producer of electric appliances. 
Thailand mainly exports electronics items. This electronic item list includes computer parts, integrated circuits, and all such electrical items. There is a tremendous increase in demand for logistic services in foreign. To meet this increased demand, Thailand plays the important role by increasing regional supply chain. With such increased regional supply chain, Thailand gets the second position in largest ASEAN exporters list. They export machinery, their parts and other components related to the machine. The services also manage all functions of the supply chain i.e. sourcing and distributing. In the session of the year 2009 to 2014, it is found that Thailand exports to ASEAN countries increased by 12% as an annual average. This annual increment is because of 20% growth in exports to neighbor countries Cambodia, Myanmar, and Laos. 
With the discovery of a number of opportunities in Thailand's logistics industry, logistic companies based abroad, like DHL, UPS, etc. are trying to get into Thailand. Some of them have already made the road to entering in Thailand's logistic industry. Thailand has enhanced it market situations and expanded its services as the country stabilized with respect to politics in the year 2015. 
Thailand improved its logistic infrastructure by enhancing its regional service connectivity
Thailand developed its transport infrastructure and also enhanced its efficiency. As a result of these improvement logistic services cost has been decreased during last few decades. The decrease in cost in is about 16% to 18% of GDP. This change in cost has been seen in the year 2001 to 2008. While in the year of 2009 to 2012 these decrease was about 14% to 15%. In the year of 2014, 160 countries were to consider for World Bank's Logistics Performance Index (LPI) Thailand got the position of 35th rank and has also got the third place among all Asian country. Cambodia, Laos, and Myanmar were the neighboring countries who outperformed in 2014 LPI. From the 2012 LPI Thailand has improved its trade and transport related services. The total freight volume consists of 80% of road transport. This is the reason that road transport dominates Thailand's logistics center. Thailand has 98% of highways which proves they have most developed road infrastructure. There are total 13 highways within the ASEAN highway network which are connected to Thailand and its neighboring countries. This is the highest among the ASEAN. The routes of `East-West Economic Corridor`, `Southern Economic Corridor` and `North-South Economic Corridor` comes under the major highways which link Thailand with other GMS. These are most important corridors because they are the backbone of GMS transportation infrastructure. 
Opportunities which arise from integration of regional logistic services
It is seen that there is a growth in manufacturing bases in ASEAN countries. These leads to Thailand becoming a major source of exporting electronic component and all other parts that are needed to get assembled machine. All these parts are scattered all over the region. Thailand is known as a hub for sourcing all such scattered parts and components. Thailand has more than 2300 suppliers who export automobile parts which make Thailand largest exporter of automobile parts. These parts are exported to Southern East Asia mostly where production bases are found. 
Thailand is most developed GMS economy. Its capital i.e. Bangkok is the main economic hub and also has its importance as a commercial center of south East Asia. Bangkok city has the popularity for sourcing lifestyle products which has already attracted foreign traders who in turn target regional customers in their local market. During recent HKTDC research tour, top logistic companies were interviewed in Thailand. They were asked about increasing number of ASEAN and Chinese buyers and traders, particularly from Vietnam, Laos, and Myanmar. These countries prefer sourcing from the capital of Thailand. Bangkok is the city where it is convenient to appoint logistic companies which can efficiently ship products to the market in the respected region. More opportunities can be expected with the further regional integration of ASEAN Economic Community (AEC). AEC was scheduled to be completely established by the end of the year 2015. The main aim of AEC is creating a single marketplace and base for production in ASEAN region. Such single market can provide the facility of the free flow of services, goods, finance and also skilled manpower. The cost for such services and exports will be again less for Cambodia, Vietnam, Laos, and Myanmar. This cost cut off will is possible only if the barriers will be removed. AEC promotes trading between Thailand and all other ASEAN region by improving customs procedures to be simpler and more harmonized. 
We can make a note of expanding market of MNCs and their extended reach to ASEAN regions. These MNC's demands logistic services that are more sophisticated and more integrated than before. This increasing demand can be met by improved complex trading patterns and the development of industries. With this respect, it has been researched that Hong Kong has the more chances of growing opportunities in developing supply chain management that is customized according to the foreign manufacturer's demands. These Hong Kong supply chain management targets all the regions of ASEAN market. There has been a growth in trading between Thailand and its GMS neighboring countries because of improved manufacturing processes and growth in the consumer market. In 2014 Thailand's trading with its border countries reached to THB 900 billion (US$ 27.6 billion). Among all such border countries, Malaysia was on the top with coverage of more than half of the border trading of Thailand. The second position secured by Myanmar which had 21% Shares the list follows Laos and Cambodia with 15% and 11% respectively. Cross-border trading by means of the road got the importance in Thailand logistic industry. There are top companies based locally and in foreign which provide cross-border logistic services for trading between Thailand and neighboring border countries. Well Transportation Myanmar Ltd is a subsidiary company of Sinotrans (HK) logistics. This company was established in 2010 with the aim of providing land haulage and services of trailers between Thailand-Myanmar borders. One more company name Sumisho Global Logistics based in Thailand also offered land transportation services via Thai-Cambodia and Thai-Laos-Vietnam route.
Opportunities available in the Thailand's Logistics Market
Thailand has attained the importance as a logistic hub which drives all the demand of logistic services in ASEAN countries. Thailand has the central location. Thailand has put efforts in developing its infrastructure among entire Greater Mekong Sub-region (GMS). Thailand is becoming the central logistic hub for all the established MNCs that has the production bases and has their sales networks in the region of Indochina. As ASEAN Economic Community (AEC) was expected to be well established, it will add to efficient trading and liberalization of services. This leads to raising the demand for logistic services from foreign-based companies to have a robust system for trading. As the foreign companies have their locations all across the region, there is a need of more sophisticated logistic services. The cost of logistic services has declined in last few decades. With such declined cost also Thailand has good road transportation facilities which dominate logistics sector. Thailand has recorded 15% of GDP which is higher when compared with US which has 8% of GDP. The companies who want more efficiency need more advanced solutions for logistic services and that of supply chain management. Better solutions can also provide efficiency regarding cost services. With this regard, Hong Kong-based logistic companies have more opportunities to provide integrated shipping and freight forwarding services for exporters and manufacturers who target ASEAN market. 
Thailand had the importance of regional logistics hub
ASEAN region has the fastest growth in consumer markets and also has the dynamic production costs. This growth is the result of a number of multinational companies that are into manufacturing, retail and commercial operations in the region. In the period of the year 2010 and 2013, the investment scale of foreign Direct Investment (FDI) had shown the growth of about 22%. This growth reached to US$122 Billion. Japan and EU found to be major sources of this FDI. In the view of foreign retailers, electronics, and automotive manufacturers, it is better to export transportation to third-party logistics companies (3PLs). Such outsourcing can give you more savings in terms of cost for services and you can also get improved risk diversification. Thailand got the position of a popular base for logistic companies which look for serving their clients through ASEAN markets. 
Foreign companies dominate Thailand's logistic service industry as noted by the industry sources. Foreign dominating companies mainly include DHL, DB Schenker, Yusen Logistics and Kerry Logistics. These all offer supply chain services and freight forwarding range of services. A number of multinational companies that serves logistics have accustomed to subcontract the transportation and other logistic activities to 3PLs. 
AEC expect acceleration in harmony of custom services across ASEAN region members. The AEC reduced tariffs of Cambodia, Laos, Vietnam and Myanmar. This acceleration and improvement can boost cross-border trading in the guidance of Thailand's transportation. It can also link businesses with Thailand's GMS neighboring countries. This is one of the benefits which logistic services providers are expected to deliver with the addition to good supply chain management. As the business is growing in all terms, many local and foreign corporations have established in Thailand. In 2013, Loxley, one Thai conglomerate, through a joint venture with Japan's NTT Docomo have founded mobile innovation in Vietnam. They provide management services and also GPS fleet tracking systems.
Foreign Logistics service providers are attracted by improved business environment
Thailand has luxuries roads and highways across the whole country. It has two seaports which connect to international shipping routes. Thailand has six international airports. Among all six, Suvarnabhumi Airport is the largest and most engaged airport. It serves more than 100 airlines which keep it busy around the clock. There are also major routes which link to other GMS countries within 'East-West Economic Corridor', 'North-South Economic Corridor' and 'Southern Economic Corridor'. As the Thailand is blessed with the prime central location, it is also the center of GMS countries. These benefits give Thailand a budgetary provision for the development of transport infrastructure. The aim of development is to establish the logistic hub for ASEAN region.
The Thai government is working hard over past decade to enhance trading and logistic services of Thailand. They started with simplifying customs procedures and also introduces the 'e-Customs' system in Thailand. E-customs provide development in terms of saving the paper and going all work to be done paperless. It also encouraged a completely integrated custom environment for trading, customs brokers and for all shipping corporations. Thai government initiated to offer tax and non-tax incentives for foreign companies who are looking for logistics activities and facilities. This service includes container yards or inland container depots, rail, cargo loading facilities, air and maritime transport services, cold storage centers and international distribution centers.  
Thailand is a member of WTO (World Trade Organization) since 1995. Thailand hence improved in liberalizing foreign investors to get the access to its service sectors. With this access, foreign owners need to follow some restrictions relevant to service sectors. Thailand has the commitments with WTO services according to which all the foreign investors in freight forwarding, warehousing and storage services limits to a stake of 49% as equity. Many foreign corporations initiated partnership with local corporations to enter into Thai logistic market. This provides the advantage of the market knowledge and business networks of local partners. As an alternative to this, foreign companies can settle an office in Thailand for better networking and marketing purpose.
Increasing demand for Cold-chain logistics services
Thailand is the largest exporter of agricultural produce and also the marine products. It is also noted that the demand for climate control transportation and cold chain logistics is increasing tremendously. Thailand has also exported agricultural material in large number. Thailand also exports meat, fruit, and the fishery products. There is an annual increase of 10% in export in the period of 2009-2014. Thailand imports food and pharmaceutical products which have doubled in last few years.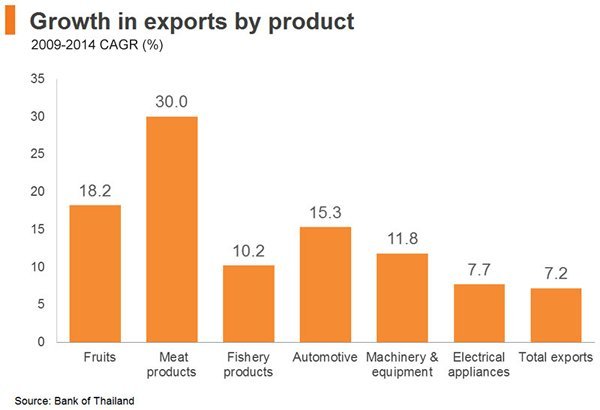 There are service providers in Thailand who supply limited logistic services. They offer one-stop services that are integrated. Thailand's logistic industry is highly fragmented with a number of small and medium-sized corporations. Each of such corporation handles a portion of supply chain operation. This fragmentation may spoil goods or can also deteriorate their quality.
Meeting the need of logistics and supply chain expertise
Thailand has a known reputation in the manufacturing process. It also has a number of multinational companies which operates production plants inside its borders. Thailand continuously updates its capacity of manufacturing to produce quality goods that are reliable and more efficient for transportation. To improve logistic hub of Thailand, it does not require improving financial capabilities only. There must be an improvement in its technical and management expertise in all its logistic services. Thailand needs to improve their expertise in its cargo handling, warehousing, customs clearance and also the supply chain management. 
Thailand has access to limited logistic services having experience in supply chain management. They also have experts who adopted latest logistic technologies. This resulted in attracting foreign logistic corporations in Thailand. These foreign logistic industries bring knowledge and expertise in supply chain processes. At present, Thailand and all other ASEAN region multinational companies have one stop solutions for logistic services. Hong Kong's logistic services can find a number of opportunities for providing value added services and noticeable supply chain management. They are also introducing advanced IT services and solutions for custom logistics.