The pandemic has brought economic turmoil and has impacted all the sectors in Thailand. A steep decline in tourism revenue from  $117.5 Bn in 2019 to  $24.5 Bn in 2020 caused the contraction of the Thai economy by 5% in 2020.
However, the crisis has also introduced new business opportunities in Thailand for FinTech firms. Lockdowns, social distancing, and temporary bank closures have changed customer behaviour, spurring FinTech start up business in Thailand. Thailand's internet economy is now worth $30 Bn, up 51% from 2020. 
Thailand Fintech Landscape
Thailand has been progressive to embrace new technologies for increasing its competitiveness. The financial institutions in Thailand have been particularly proactive in enhancing their existing framework, implementing robust safeguards for customers, and investing in developing innovative systems. Thai regulators have been real quick in addressing gaps in legal as well as the regulatory framework that has arisen due to changes to domestic as well as global fintech business.
The Thai government's key growth strategy is to improve and expand Thailand's capacity for high value-added technologies such as blockchain, big data, artificial intelligence (AI), robotics, machine learning and cloud computing providing investment opportunities in Thailand. 
Fintech Trends Driven by the Pandemic
In the Southeast Asian region, Thailand is among the biggest advocates of tech-driven growth with countries like Singapore and Indonesia. These trends were the result of the pandemic's disruptive effects which created a renaissance for FinTech Thai startups in the country. This, along with consumer behaviours that are growing along digital lines and consumers looking for safer options, has positioned Thailand to lead the way in enhancing digital facilities and promote greater financial inclusion in line with Thailand 4.0's innovation drive.
ASEAN Fintech Landscape
Even before the pandemic, the Thai government has been working to encourage digital payment for consumers and businesses. The pandemic further pushed this effort; the ongoing shifts toward digital payments, digital investments, neobanking, alternative financing and alternative lending significantly have increased during the pandemic and will only rise in the coming years.
Transaction Value by Segment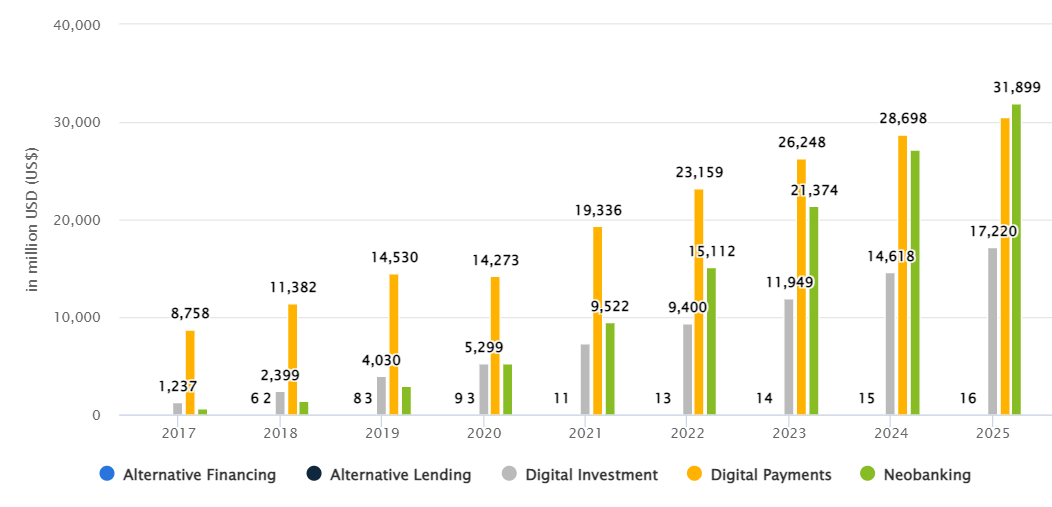 The government seeks to encourage the much-required collaboration between the traditional Thai banking companies and FinTech companies for helping the banks become more agile and compete with their counterparts globally. The Thai government is also fostering closer cooperation between Thai regulators and FinTech companies for minimising any obstacles to its FinTech development. 
Thailand is highly advanced with respect to the use of the internet compared to several countries. Globally, the time spent on the internet on an average by a user is around 6.43 hours per day. However, in Thailand, this average is around 9 hours per day. As per JP Morgan, around 50% of internet users in Thailand make mobile payments and almost 71% shop online using mobile devices per month. These figures represent a high level of dependency on mobile and online transactions. 
The demand for FinTech services is projected to grow swiftly as tech giants such as Alibaba, IBM, Tenpay, Apple and Facebook extend their activities into Thai financial markets. Thai banking institutions are quickly embracing the changes made possible by new innovative technologies for catering to the new generation of consumers.
Blockchain
Many industries and government authorities outside of the fintech industry have been progressive in embracing blockchain. A few of the recent developments in the adoption of blockchain technology include the partnership between the Customs Department of Thailand, IBM and logistics provider Maersk for deploying a digital trade platform.
Big companies in Thailand are pouring funds into Bitcoin mining as the trade and investment in cryptocurrency booms across the country as young investors look for better returns from their savings amid low-interest rates and an economic slowdown. Looking at the rise in investment in cryptocurrencies, Binance, one of the world's largest cryptocurrency exchanges in the world by trading volume, is gearing up to set up a crypto exchange in Thailand.
Cryptocurrency
The use of cryptocurrency for payment is still limited in Thailand. However, cryptocurrency is now a very popular investment alternative in Thailand. According to reports issued by the Securities and Exchange Commission of Thailand (SEC), the monthly transactional value on Thai cryptocurrency exchanges reached THB 90 Bn in January 2021 as the prices of bitcoin soared and reached new highs attracting the Thai public's attention. 
The country has become a front-runner in the region in the crypto industry as well as other financial technologies. Around 10% of its internet users have some form of cryptocurrency investment, helping Thailand secure the second spot in the crypto market just behind Nigeria as per 2021 data. The government has been supportive of the ownership of cryptocurrencies in Thailand which has led to this growth in digital currencies in the country. 
Digital Banking  
Virtual banking services have grown rapidly in Thailand in the consumer lifestyles space which has led to a rise of tech development companies. Digital banking is the new norm in Thailand for banking and financial institutions. Banking and financial institution have in Thailand curated roadmaps for offering better services through digital banking functionality to their customers. This has been essential for Thai banking and financial institutions to stay competitive in this digital era. 
To meet the Thai consumer expectations and demands, traditional banks in Thailand such as Siam Commercial Bank and Kasikornbank have been developing online channels to reduce their "bricks and mortar" presence. The banking institutions are able to drastically reduce their costs and help them in paying attractive returns on savings to their customers.  
There's a rise of B2B fintech firms in Thailand, especially the ones offering back-end infrastructure for the banks and other financial institutions. Thai B2B fintech companies have the potential to expand the market to the regional or even at the global level.
Several fintech firms in the country have been in the process of developing financial services such as payment via a digital platform. With a digital-only bank, customers may not face problems of complex hidden fees, making direct deposits, or making payments via different channels. 
Algorithm Stock Trading 
The swift change of technology has affected the financial markets in Thailand significantly. To enhance efficiency and liquidity in the market, the SET (Stock Exchange of Thailand) allows Thai stockbrokers to offer their clienteles algorithmic and automatic stock trading. 
Algorithmic trading employs a computer program that follows a specified set of instructions for placing a trade. In theory, the trade could generate profits at a speed and frequency that are impossible for any human trader. 
Thai investors are accepting algorithm trading as the new financial technology, but still, there are concerns about their reliability and profitability. Such exposures and risk offer business opportunities in Thailand to tech companies to develop platforms that can build and improve investors' trust in algorithm trading as a profitable and reliable trading strategy.
Artificial Intelligence (AI)
Artificial Intelligence (AI) is the key technology that is disrupting all aspects of financial service. In near future, banks in Thailand will move from 'wealth managers' to 'data managers'. At this point, fintech would serve their purpose and use AI tools for supporting the bank operations in data management, information security, and generating additional income using that data. Fintech would develop a channel for the financial institutions in Thailand to access and closely engage with their customers. Banks would recommend financial products to their customers after their AI tools analyze the customer profile. Further, AI would be applied in data security as well as an authentication protocol for ensuring safe and efficient financial transactions. 
Starting a Fintech Company in Thailand
The tech industry and startup landscape in Thailand are booming. For the last few years, big corporates have taken a keen interest in Thai startups and have established accelerators for driving growth for businesses using financial technology. Entrepreneurs and investors both within Thailand and overseas are flocking in to take advantage of its strategic location, ease of doing business policies, well-connected transport infrastructure, lively community of startups and digital businesses.
 
With the level of digital banking that has risen to new heights, Thailand offers a solid policy concerning financial technology and offer attractive incentives for starting a company in Thailand. Business consulting services in Thailand can help entrepreneurs with the setting-up of a Fintech company in Thailand and also guide them regarding the various Fintech regulations in this country.
References
https://www.uobgroup.com/techecosystem/news-insights-fintech-in-thailand-3q-2021.html?
https://research.hktdc.com/en/article/NzMzODE1MDk5
https://www.bbvaresearch.com/wp-content/uploads/2017/07/June-2017-ASEAN-Fintech-Trends1.pdf