International tourism is the key and chief contributor to the economy of Thailand. The Thai economy was hit hard by the pandemic—but it is finding ways to support its travel industry and prepare for international travel to arrive once there's a further recovery.
Thailand's economy is dependent on international tourism, once a thriving sector that has been impacted due to restrictions brought in by the pandemic. But there have been constant efforts by the Thai government to boost domestic travel, as well as measures for supporting the return of international demand after the country started to reopen its doors to vaccinated travelers from 63 nations last year. 
The pre-pandemic levels of tourist arrivals and spending take a year or two, as per the Thai Hotels Association. It's likely that in the near future large groups of travelers would start heading to Thailand, provided the pandemic outbreaks remains checked and under control. There's light at the end of the tunnel, but at the same time, it would be a gradual climb back to the pre-pandemic levels.
A Heavy Blow to Thai Tourism Industry
In 2019, Thailand was in the eighth position globally in the number of international tourist arrivals, with China being the chief source. The country recorded 40 million tourists in 2019, with the top spending categories for inbound visitors being accommodation 28%, shopping 24%, and food and beverages 21%. Moreover, the tourism sector in Thailand created around 36 million jobs and several business opportunities in Thailand in the country between 2014 and 2019. 
Unfortunately, the outbreak of pandemic and subsequent restrictions has hard hit the Thai economy, particularly its tourism as international travel plunged in a matter of a year. Passengers on international flights to Thailand declined by 95% in September 2021, as compared to 2020 and much worse when compared with 2019.
This decline in the number of tourists had a huge impact on tourism spending, as international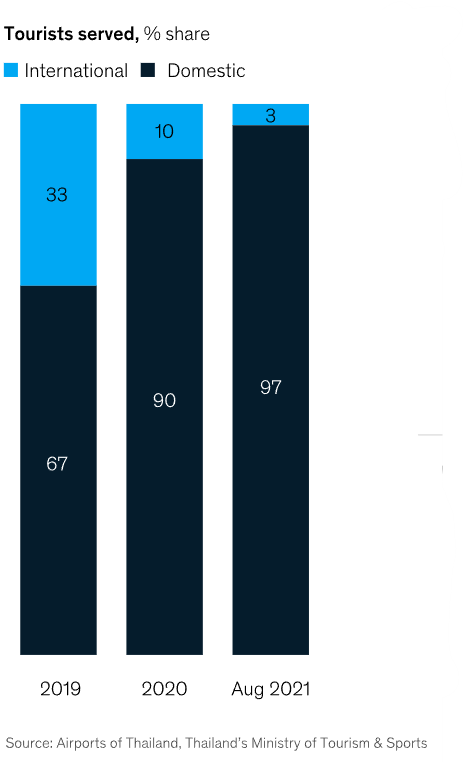 travelers spent significantly higher than their local counterparts. In 2019, international travelers made up 33% of overall travelers in Thailand and accounted for around 60% of all tourism spending. On average international tourists spent around $1,543 per traveler, compared to $152 by local travelers. This fall in expenditure undeniably created a ripple effect on the country's food and beverage (F&B) retail industries, which include approx. 1.2 million small and medium-sized enterprises. 
Recovery seems to be on the horizon for Thailand's economy, particularly its tourism industry. With pandemic's hide and seek, slow growth, minimal changes to global tourism strategies, and muted world recovery, Thailand's tourism are likely to recover to pre-crisis levels early by 2023.
Long-term Optimism
Given that the GDP of Thailand depends significantly on the income from foreign tourists, the local tourism market alone won't be sufficient to bring the country's revenue from tourism back to pre-pandemic levels; the tourism sector's recovery would rely on a resurgence in international travel. This recovery would likely reshape the world's travel industry landscape and bring a strong imperative for the public as well as investment opportunities in Thailand in the private sector for ensuring the industry's survival.
Over the longer term, the Thai government and the Thai market alike remain optimistic about international travel. Southeast Asia is among the fastest-growing markets in the world and home to a large middle class of around 300 million people with a strong interest in travelling and a thirst for international aspirations. The Thai tourism industry has requested the Thai government to be flexible with the entry restrictions for tourists both domestic and international. The government is also eagerly looking for foreign investment in Thailand to give a lift to its tourism sector.
Efforts to Stimulate Tourism
The Thai government has arranged several efforts to compensate for the loss of income due to the lack of international and domestic tourists. The Thai government's effort to encourage domestic travel took the form of offering subsidies for flights and hotel stays for travellers. The Thai government also rolled out various measures for stimulating international travel to its beach destinations and attracting high-end tourists from international markets.
Thailand's revenue from domestic travel reduced from $34.5 Bn to $15.4 Bn in 2020. An increase in local spending won't alone compensate for the effect of the pandemic on its economy. Thailand has largely been reliant on the international markets, which represented around 60% of its total tourism spending in 2019.
In response, the country launched the "Phuket Sandbox" last year, an effort to draw demand from international tourists. The initiative allowed fully vaccinated tourists exemption from requirements of quarantine, provided they stayed in Phuket for not less than 14 days before travelling to different parts of the country. The model hopes to attract visitors from Asia, America and Europe—all key markets for Thailand. Various other reopening plans followed, such as "Andaman Sandbox" and "Samui Plus" plans. Together, the plans have created a network of reopened tourist spots, which hopes to position the country as an attractive destination for domestic as well as international travellers alike. Tourist Arrivals in from 91,255 in November 2021 to 230,497 in December 2021
Tourist Arrivals in Thailand
An Eye on New Markets
During the per-pandemic era, China was a key contributor to tourism income for Thailand, accounting for around 27% of its tourism receipts in 2019. Given the Chinese government's prudent approach towards international travel, the return of Chinese visitors to Thailand at pre-pandemic levels might take a while. Thailand, therefore, is reimagining its strategy and trying to capture new sources of travellers from international markets with rapid recovery in the international travel demand.
The situation might change quickly, especially during these volatile times. The Thai government is closely monitoring the revival of the top source markets and would help its industry players in planning their recovery efforts and capturing untapped value.
Recognizing the shifting traveller trends, and the premium traveller's resilient nature, the government is pushing to attract travellers from countries with rising demand for international travel. The Thai government's measures include relaxing and revisiting certain regulations like yachting regulations and taxes on luxury goods—for improving and stimulating the premium travel experience.
Taking a step further, the Thai government is about to launch a Long-Term Residence (LTR) scheme for attracting foreigners to Thailand through new LTR visas (valid up to 10 years), ownership relaxations to foreigners for residential property, tax and investment incentives, and more. The program would be targeting four key personalities: 
the wealthy global citizen, 
the wealthy retiree, 
the work-from-Thailand professional, and 
the high-skilled professional
Thailand's ambition is to welcome over a million of these target tourists and generate domestic spending over THB 1 Trillion in the coming five years, starting 2022.
Thailand's government is also developing a keen interest in casinos, as the country continues to bank on tourism as the prime source of its economic growth. This will also provide a shift and offer various business ideas, Thailand would try to model cities like Las Vegas for bolstering its tourism industry.
Thailand is planning to collect a $9 fee from international tourists from April for developing attractions and covering accident insurance. The new fee would be priced in with the airline tickets and is part of the Thai government's sustainable tourism plans. Thailand expects around 5-6 million international arrivals this year. International tourists are projected to generate $23.97 Bn this year.