Thailand is one of the world's largest economy and the second largest in South East Asia. Thailand has a lot of industries and commercial sectors that help the country to build such a promising economy. The World Bank has recognized the Thai economy as "one of the great development success stories" in recent decades. Thailand is ranked 21st out of 190 countries in the World Bank Group's 2020 Ease of Doing Business report rankings.
Thailand has recently been ranked  first in the world  among countries with the highest Covid-19 recovery rate, according to a report by the Global COVID-19 Index (GCI) of the World Bank. This was possible as a result of strict discipline and endurance, followed collectively as a nation. 
Tourism is a major driving force that has made Thailand a versatile economic power. However, there are other industries and businesses as well which have significantly contributed to the economic growth of Thailand. Thailand is increasingly becoming an attractive destination for investment and quick returns for businesses looking to expand in South East Asia.
Even though Thailand's economy has been hit due to the Covid-19 pandemic however the economy is poised to turnaround within the next year. Furthermore, Thailand is also expected to benefit from the growing trend of companies pulling out from China. This provides an excellent opportunity for businesses to explore the true market potential of Thailand
There are several profitable business opportunities available in Thailand especially for businesses looking to startup or expand in Thailand.
Here is a list of 12 profitable businesses in Thailand that is worth considering for investment during 2020-2021. 
1. Baby care
The global baby care industry is expected to increase at a rapid rate. The world population is growing every year and this provides a fantastic opportunity to start a business related to baby care products, toys, and other accessories. Parents always want the best for their babies and regardless of budget and financial capabilities. Thailand has a booming baby care market especially in the developed urban areas where young parents have a lot of disposable cash to spend on baby care products.
As per Statista, baby care market revenue is expected to show an annual growth rate (CAGR 2020-2024) of 16.2%, resulting in a projected market volume of US$ 411 million by 2024. User penetration is also expected to hit 12.8% by 2024. The e-Commerce market segment for toys & baby care includes the sale of toys, and products for infants (e.g. clothing, care products, baby food, bottles, nursing products, playpens, strollers, and car seats).
Many internationally acclaimed global baby brands like Nuby, Bibi, Mee Mee, Pigeon, Farlin, Chicco, Mothercare, etc have selected Thailand as one of their preferred outsourced production centers because of the quality, cost-effectiveness and hygienic processes. The online baby marketplace is on the rise with brands like ToysRus.com, mothercare.com, and childrensplace.com doing reasonably well in the e-commerce segment in South East Asia.
2. Brewpub
A brewpub is a lucrative business in Thailand which can be considered. It is basically a combination of a restaurant and a microbrewery that serves people with crafted beer in different flavors and tastes. Since Thailand is the leisure destination, visited by tourists from all around the world, there would be a steady flow of customers all year round. The growing premium beer market in Thailand is estimated to be Baht 2.2 trillion in Thailand as spent by 38 million tourists that visit every year.  The industry really demands a close look by potential investors especially if you can provide the tourists with their native taste and flavors.
According to The Thailand Development Research Institute (TDRI), in 2018, the Thai beer market value was 180 billion Baht. The drinking volume was close to 2 billion liters. Krungsri Research reported that the domestic demand for beer was forecasted to grow at an average of 2-4% per year during 2019-2021. Growth of the mainstream market would remain low, while the premium segment would rise by 4% on average. Thai craft beers and imported beers in particular will continue to show a double digits growth. Craft beer is generally made with organic ingredients – sometimes derived from fruit or natural products native to its production base. Achieving the distinct and subtle flavors is difficult, according to experts. If supported and promoted by the government in the right way, Thai craft beer has the potential to become a top export.
3. Catering business
A food catering business is one of the best startup ideas that you can think of. It is a highly profitable business and ensures lucrative margins on the overall sales. The scope of the catering business is quite wide and target customers can be school students or office staffs or you can even cater during events and seminars.
According to NSO's survey of Thai household expenditure on food, Thai household spending on eating out and takeaways grew by approximately 3% per year between 2009-2018, as compared to household spending on self-cooked meals which grew only by 1% per year during the same period. As per Ken Research report, Thailand catering Industry is projected to grow at a robust CAGR of 20.7% during the period 2017-2022.
4. Delivery business
The service-based industries hold a significant position in the GDP of the country. Since customer satisfaction is dependent on time and delivery speed, starting a good delivery business can be very profitable if run efficiently.
KResearch (a part of Kasikorn Bank) had estimated the food delivery business of Thailand to be worth 33-35 billion Thai baht during 2019, up 14% from the previous year. During the recent pandemic, food delivery businesses have been boosted by more than 3 times more especially with people stuck under lockdown. Food Panda, Lineman, and Grab Food are the predominant players in Thailand. With the new normal after the coronavirus pandemic, the food delivery business has widened its scope beyond just restaurant takeaways and started catering to the traditional retail business.
According to insights from Get Food, the latest player to enter the local online food delivery market, only 30% of their orders come from major restaurants while 70% come from small businesses or street food stalls. Adapting to new innovations and making new strategies remains the key to success for any business. 
5. Digital Marketing 
Thailand is rapidly embracing digital technology as a way of life. Thus there is immense potential in Thailand if the business is related to digital platforms or technology.  Investing on a digital marketing agency in Thailand can be a very lucrative business proposition. With so many businesses playing in the same digital space, it becomes essential to establish a unique digital brand identity. Companies need to leverage digital promotions like paid search, display advertisement and SEO strategies to differentiate their offerings from their competitors. However, this business requires you to be really knowledgeable about the field and hence if you are not passionate about it, then it is recommended that you learn about it first. It is a really tricky business, yet the one that can be the most profitable.
Food delivery apps are another example of 'digital disruption' and are transforming consumer behavior as well as the restaurants' food supply chains. Several applications for food were extensively used during the corona struck economy each trying to beat each other in terms of offering better discounts, service etc.

The Global Digital Report 2019 conducted by social media management platform Hootsuite and global agency WeAreSocial found that 49 million Thais use social media, 71% penetration of mobile users, and 51 million active internet social media users. In the same report, we find that Thailand ranked No.1 for mobile banking users, 2nd of owning cryptocurrency, and 3rd in mobile commerce.
Thais are known as one of the "most online" people in the entire world, with internet penetration projected to reach 70% this year, it really matters a lot to both consumers as well as brands to be represented effectively in the digital media.

As we progress on the post-covid world, all consumers are expected to be online for their daily as well as special needs like groceries, entertainment, banking, etc. There would be tremendous growth for digital agencies to handle the paid media needed for advertisements by different brands.
Read More: Thailand Digital Scenario
6. Driving School
Since Thailand is a developing country, people are being able to strengthen their financial status even more and as a result, they can think of purchasing two or four-wheeled vehicles. A new car is always appealing to those who are earning handsomely. But before buying a new car, many people would be really interested to learn how to drive. Especially in the cities where people need a vehicle more than the rural areas, a driving school can help you fetch good profits if you can run the institute the right way with good driving teachers and staff.
As per The Nation, Thailand has over 37 million cars and over 50,000 registered drivers. In a country with a population of about 69 million, the concentration of people having cars is 2:1 which is quite high compared to many other countries. So definitely a demand exists to have more and more qualified drivers in the country in the ever-increasing population of car purchases.
7. Import and Export Business
Thailand is a member of the World Trade Organization (WTO) and the ASEAN Free Trade Area (AFTA). Being a member of these renowned organizations have helped Thailand to pursue free trade agreements with many countries around the world. Additionally, the Thai economy is heavily dependent on export and import. Therefore, starting a business related to it can be profitable. Depending on the items you will be importing or exporting, your profits and risks will be involved.
Thailand imported US$239.9 billion worth of goods from around the globe in 2019, up by 18.8% since 2015 but down by -4.4% from 2018 to 2019. Thai imports for 2019 represent 1.2% of overall global imports which cost an estimated $19.665 trillion one year earlier during 2019. 74.9% of Thailand's total imports by value in 2019 were purchased from fellow Asian countries. Top 10 imports include Electrical machinery, equipment, Mineral fuels including oil, Machinery including computers, Gems, precious metals, iron, steel, Articles of iron or steel, Vehicles, Plastics, plastic articles, Optical, technical, medical apparatus and Organic chemicals.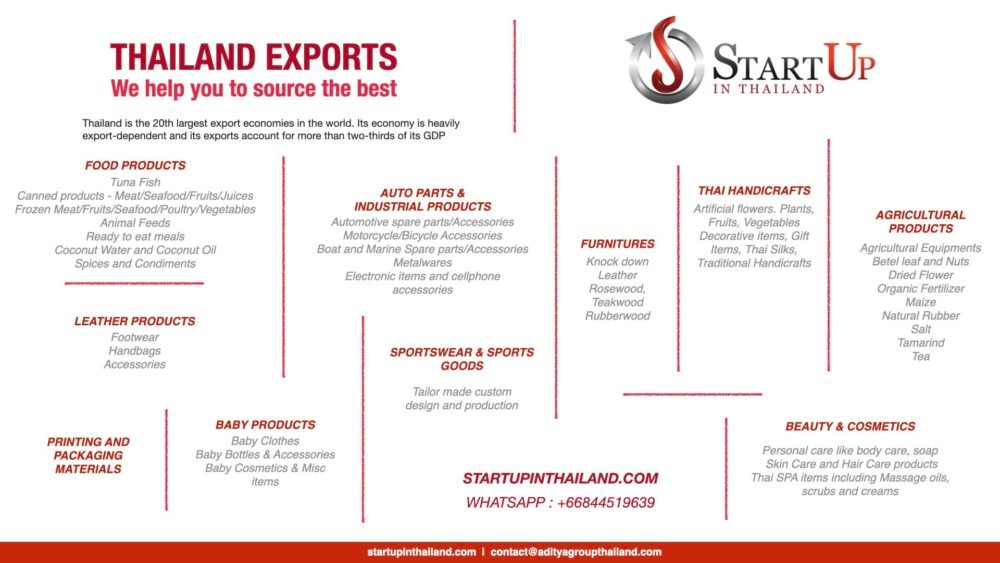 Agriculture is one of the top industries in Thailand and products like Rice, Sugar, Maize, Rubber, etc. head the list of exports. However, being the 20th largest export economies of the world, accounting for two-thirds of its GDP, Thailand has ample opportunities for entrepreneurs who wish to do trading business
Read More about Export-Import Industry of Thailand.
As a buying agent in Thailand, Startup in Thailand offers a procurement & operation team with a dedicated Thai person to help to start or continue your company without difficulties. Read more about our Representation services in Thailand.
8. Graphic Designing
The increasing demand for marketing campaigns and other promotions from various companies has led to a significant rise in graphic design. Therefore, you can choose to provide services in this field in Thailand. Many industries and brands depend on these graphic designing agencies for cost-effective and attractive designs. These include advertisements, public relations materials, promotional boards, billboards, and various other elements. Once you build a good name in the industry, it will provide you with ample opportunities to make a significant amount of profits in the long run without any risks involved.
One of the main reasons for setting up graphic design studio in Thailand is because of the availability of highly creative and skilled artisans.
9. Handyman Business
A handyman business provides in-home services to clients who do not have the necessary skill, time, or potential to carry out the work themselves. Your cost will be focused on hiring such individuals who can help your clients complete the work they are looking for.
Handyman services are quite exhaustive like house painting, sanitary fixing, electrical, plumbing, AC  fixing, upholstery cleaning, errand running, etc.
10. Jewelry Design
Opening a jewelry design business in Thailand can be really profitable in the long run. Jewelry design has a lot of potential and is an enormous market which many individuals are pursuing as a career option as well. There is always a huge demand for fashion around the world and therefore, it will be an evergreen business for a long time to come. There is a significant need for good designers in the jewelry industry and if you can provide the best lessons and skill development courses, then students will be ready to pay a hefty fee to study.
Thailand is a major global hub for colored gemstones. Thailand is the largest exporter of silver jewelry and its many manufacturers offer a wide variety of designs, from the simple to the spectacular as seen in this gemstone, and gold-plated necklace by the designer brand Dhevan Dara.
As per Bangkok Post, Thailand is now one of the top ten Jewellery exporters in the world, and in 2018, the top 3 products were Silver with a market share of 23.8%; Coloured Stones in which the value of exports ranks third worldwide with a market share of 11.9%, and; Imitation Jewellery in which the value of exports ranks sixth worldwide with a market share of 5.9%."
The availability of skilled Thai artisans capable of producing intricate designs makes the establishment of a design center more viable to increase the skillsets.  This industry has Thai business operators who are adept in trading skills including sourcing the right raw materials, manufacturing, and marketing it globally. This industry is going to stay and grow for a long period. So a Jewelry design training center maybe a business this industry would look forward to.
11. Night Club
Thailand is one of the best countries which has an attractive nightlife. There are various ways in which you can enjoy a night in Thailand and one of the most popular of them is visiting a night club. People love socializing with others and they are also willing to pay a lot of money for their own and also treat others. Hence a night club business is one of the best startup businesses in Thailand that you can think and invest in. Even though it is an expensive business to think about, at the same time it is highly profitable. You can sell a lot of different products from a world-class liquor to fusion food items and also bring in live bands and DJ to make sure that you are able to attract more customers.
Although people may think that due to the Corona pandemic and the social distancing norms in place, this business may not be the right one to invest at this time. But with half the year gone and a predicted economy bounce back by early 2021, this business is definitely worth considering as the market demand is there and with the right positioning of the business, it has very high chances of success.
12. Photography Agency
This is one of those businesses which never gets old. Photography business can help you generate lots of revenue in the long run because people will never get tired of taking pictures especially when they are organizing a special event. You can open a photography agency in Thailand and hire good photographers and provide the people with stunning images of their grand events. Photography packages are really profitable and you can make a lot of money from that. It is true that very good quality photographers are available in Thailand, including foreigners who often work as a freelancer which could be a good resource for your startup.
The business can be done individually or it can be scaled up to have a big team to handle events and be a prominent player in the MICE industry in Thailand which contributes to 3% of the tourists coming into Thailand.
According to Tourism Authority of Thailand (TAT) figures, the global wedding industry is valued at US$298 billion, with $80 billion of that figure coming directly from destination weddings. Thailand, with its idyllic beaches, phenomenal natural beauty, and well-organized wedding planners with ever-charming guest relations, ranks as one of the world's top six countries for weddings and honeymoons. It is considered as Asia's top wedding destination and an emerging favorite destination for Middle Eastern and African countries.
Many of Thailand's top private holiday properties and photographers are also linked to wedding planning agencies, so the couple can liaise with their professional wedding planner from back home. A good photographer or a creative team of professionals with a wealth of local knowledge is always a priceless addition to the team where numerous hours of creative work is involved in deciding for their big day.
So, here are the top 12 businesses that can provide you with a good amount of profit if you are able to carry the amount in the right way.
Startup in Thailand has a program for Building Entrepreneurs wherein they provide funding, legal infrastructure, and all related support services at a very affordable cost. The idea is to handhold you through the difficult terrains of your startup journey to make you successful.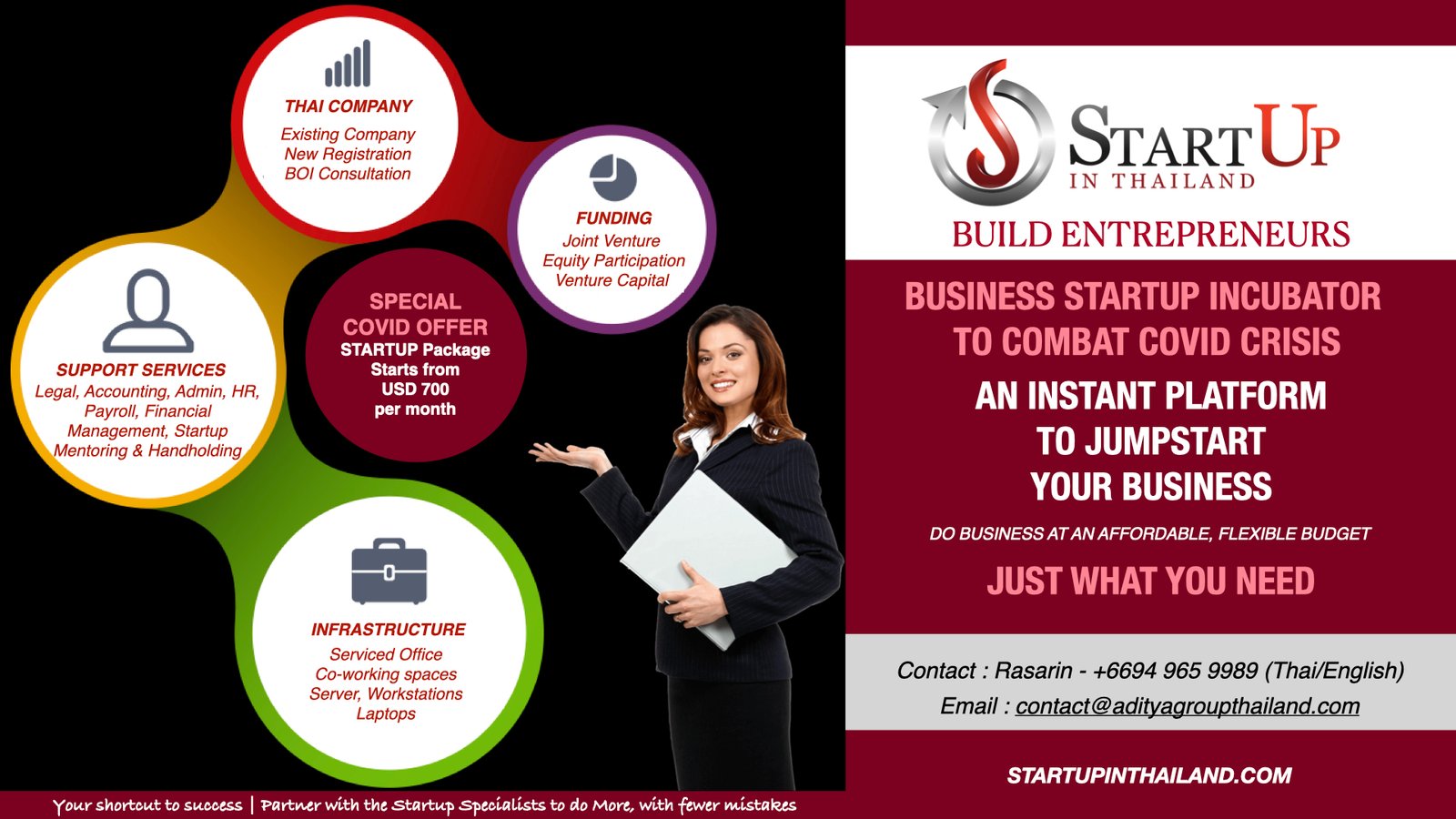 End Note
Thailand is a growing economy and it is going to expand even more in the coming few years. With flexible trading terms and different advantages for doing business in Thailand, you can actually make great usage of these friendly customs and regulations in order to generate a good amount of profit by carrying out a particular business in this country. Make sure that you are aware of all the local laws to operate and you may opt for any Legal Assistance in Thailand which can provide you the knowledge that you are looking for.
Contact Startup in Thailand for a no-obligation, 30 mins FREE Business Consultation NOW. 
Few More Interesting Reads