In recent years, more and more international companies and independent traders are considering opening a branch or starting a new business in Thailand.
Here is an overview of some of the many factors that make Thailand the best country to start a business.
People who are planning to start a business in Asia will quickly discover that Thailand is one of the best countries in South East Asia to establish a business and make important connections.
All the more reason for someone to select the right country for Market Entry especially after the coronavirus pandemic which has crippled the global economy. Thailand is all geared up to fight back the down-trending economy with unique measures that help in doing business in Thailand.
Thailand has recently been ranked # 1 in the world among countries with the highest Covid-19 recovery rate, according to a report by the Global COVID-19 Index (GCI). This was possible as a result of strict discipline and endurance followed collectively as a nation. 
Thailand is one of the original Tiger Economies and the nation experienced impressive growth spurt in the early 1990s. Thailand is blessed with rich natural resources that include timber such as highly valuable teakwood, a wide range of different types of precious stones, as well as fisheries.
The nation is one of the biggest rice exporters in the world. Tourism, textiles, jewelry, and electrical appliances are also major products that are exported from Thailand. A magnificent sixty percent of Thailand's GDP is made up of exports and products manufactured in Thailand are exported all over the world.
Related articles: Why Thailand Is A Good Business Destination and Import-Export Industry of Thailand
Here's our listing of the top 10 reasons to start a new business in Thailand:
1. Thailand – The Gateway to Asia
One of the best things about starting a business in Thailand is that Thailand has a strategic location and serves as a gateway into the heart of Asia, which is home to the largest growing economic market in the modern world.
Thailand also offers convenient trade with China, India, and the countries of the newly formed Association of Southeast Asian Nations, which is commonly known as ASEAN. People who set up a company in Thailand will also have easy access to the Greater Mekong sub-region, where newly emerging markets offer great potential for doing business in Thailand.
Thailand was foresighted enough to be one of the founding members of the ASEAN Region and has been active in the formation and development of the ASEAN Free Trade Area, which is commonly known as AFTA. AFTA entered into force on January 1st of 2010 for the six original ASEAN (ASEAN-6) members, which were comprised of Thailand, Singapore, Malaysia, Indonesia, Philippines, and Brunei, thereby reducing the import duties that the country had to pay to zero.
Thailand is perfectly placed at the crossroads of Asia and offers easy access to the region's dynamic markets, including its own booming domestic consumer market of more than 69 million people.
Thailand has long been an advocate of free and fair trade and it is very attractiveness as a production base for leading international companies that is enhanced by a number of free trade agreements.
Read more about the ASEAN Advantage.
2. Ease of doing business in Thailand
Every year, the World Bank conducts a study on the ease of doing business in various countries around the world. The World Bank produces an annual report that looks at domestic and medium-sized enterprises and the quantitatively measures regulations that affect them, covering nine indicators for 190 economies.
World Bank Group's 2020 Ease of Doing Business report ranks Thailand 21st out of 190 countries, up by six places compared to the previous year. Among areas in this report which showed the greatest improvement, was a reduction in the number of steps required and the amount of time needed for obtaining construction permits, and the score for ease of shareholder suits that in turn helped improve the ranking for protecting minority investors.
For many years Thailand has been among the most successful countries in Asia for attracting Foreign Direct Investment, which is commonly known as FDI.
Forbes listed the country as the 8th best-emerging market of 2020.
Its current account balance was 5.6% of GDP, with direct investment stocks inward exceeding US$222 billion, according to UNCTAD's 2019 World Investment Report.
It was rated as the 26th best country overall in the 2020 edition of the U.S. News & World Report's Best Countries report, which evaluated 73 countries based on 75 metrics such as quality of life, economic influence, power, education, and eco-friendliness, among others. Moreover, Thailand is ranked No. 1 on the US News & World Report's chart of the Best Countries to Start a Business 2020, among 73 participating countries across the globe.
In the ever-competitive investment environment that characterizes the 21st century, Thailand has continued to remain attractive to foreign investors.
For more than three decades, successive Thai governments have recognized that the private sector in Thailand has been the main facilitator of growth and the government has actively played a promoting and supporting role.
The Thai government has taken a consistently favorable stance to reduce so-called 'red-tape' policies and facilitate foreign investors, contributing to Thailand's economic and technological growth. Multinational Companies (MNCs) have set their foot to Thailand over the decades as a quest to be a part of the thriving economy. Almost all major manufacturing giants have a base in Thailand and continue to grow.
Source: Boi.co.th
Thailand consistently ranks highly in the world for various elements of business and infrastructure in Thailand and is recognized as being the worlds:
31st biggest economy
22nd biggest economy by purchasing power
24th biggest exporter
16th largest manufacturing output
34th largest services output
11th largest agriculture output
25th largest industrial output.
In addition, Thailand is also:
The world's leading rice exporter in terms of quantity
The world's second-biggest pineapple exporter
The world's second-biggest sugar exporter
The world's leading cassava exporter
The world's leading rubber exporter
The world's sixth-largest rubber tires exports in terms of value
The world's seventh-largest computer device exports in terms of value
The world's ninth-largest computer accessories exports in terms of value
The world's seventh-largest motorcycle exports in terms of value
The world's fifth-largest truck exports in terms of value
The world's largest producer of HDD
3. Thailand's Growing Economy
Economically, Thailand is characterized by steady growth,  strong exports, and a vibrant domestic consumer market. Abundant natural resources and a skilled and cost-effective workforce all help to attract foreign investors and enable them to prosper and develop industry in Thailand.
Thailand, the second-largest economy in ASEAN  after Indonesia, is an upper-middle-income country with an open economy, had a gross domestic product (GDP) of $529 billion and 4.1% annual growth in 2018 according to World Bank.
Thailand has performed phenomenally year on year in multiple areas. Its trade surplus as a percentage of GDP was ranked 9th globally, and its current account surplus earned it a 10th place ranking. Its ranking rose to the 12th largest for agricultural output, while Thailand's manufacturing output was ranked 18th worldwide. It was ranked the world's 19th largest importer and the 24th largest exporter.
Thailand's GDP has increased continuously over the past several years. The Office of the National Economic and Social Development Council reported Thailand's GDP growth for 2018 to be 4.1% and has additionally forecasted that GDP growth for 2019 will be in the range of 3.5 – 4.5%.
A shift from the being ranked from 27th largest to the 24th largest in terms of service output proves its improving nature. Year on year, Thailand's rankings have improved in many areas.  Industrial output qualified Thailand for a 23rd place ranking,
Forbes listed the country as the 8th best-emerging market of 2020.
In addition to a growing highway system that now connects not only every province in Thailand but also to the neighboring nations of Laos, Cambodia, Malaysia, Burma and Vietnam, Thailand also offers:
Seven prominent international airports
Modern city-wide mass transit in Bangkok
4G/Wi-Fi and broadband access throughout the country
Six deep seaports and two international river ports, including containers, tank farms and liquid jetties
Thailand's development plans for the coming decade include a high-speed rail network that will connect Bangkok with the north, south, east, and west of Thailand, as well as to southern China.
The mass transit system in Bangkok has already been expanded far into the suburbs with more connections to other parts of the city in the pipeline and air and marine transportation will be further strengthened to meet the pace of growing demand.
EEC and Digital 4.0 to boost the economy
To promote infrastructure development, Thailand has published the Eastern Economic Corridor (EEC) Act to support EEC development of integrated infrastructure and utilities to connect land, sea, and air through high-speed rail links, ports, and airports.
The EEC scheme covers 30 existing and new industrial zones, with an expected investment of $55 billion in three eastern provinces — Chachoengsao, Chon Buri, and Rayong.
To ensure Thailand's economy continues to develop over the next 20 years, the Thai government has adopted a new economic model called Thailand 4.0, which is focused on transforming Thailand into a value-based economy built upon science, technology, innovation, and creativity. To this end, five existing high potential industries and an additional five new targeted industries have been identified as the "New Engines of Growth" driving the country into the future.
Source: boi.co.th
To achieve a high level of development, the business leaders and the government have set up a new transformation stage with the name of 'The Digital Thailand 4.0 program'. The main characteristics of the program include a digitalized social system with an integrated digital business. This program has helped these rural-based small and medium firms to make use of e-markets and e-payments for selling their products. The government of Thailand is striving hard to endorse "Thailand 4.0" as its new ploy and economic model for towing the country out of the middle-income trap and offer an impetus to the country to move into high-income range group.
Read More to learn more: Global Economic growth of Thailand and Thailand 4.0 
4. FDI Policies in Thailand
Thailand's well-defined business investment policies focus on liberalization and encourage free trade throughout the nation and with other countries.
As the second-best economy in the region, Thailand continues to be one of the most successful countries to attract Foreign Direct Investment (FDI). Thailand provides an attractive business climate for foreigners to do business in Thailand with consistent support from Thai government organizations like The Board of Industries (BOI) which offers lucrative incentives for doing business in Thailand. 
There are no prior government approvals that are necessary for any foreign investments unless one needs to take advantage of the special incentives of BOI and most sectors of the economy are open to foreign investors.  
Foreign business investments in Thailand, especially those that contribute to the development of skills, technology, and innovation are actively promoted by the government.
Thailand consistently ranks among the most attractive investment locations in the world in international surveys, and the World Bank's Ease of Doing Business 2020 report places Thailand as the 21st easiest country in the world and the second-ranked emerging economy in Southeast Asia in which to do business.
It was rated as the 26th best country overall in the 2020 edition of the U.S. News & World Report's Best Countries report. Moreover, Thailand is ranked No. 1 on the US News & World Report's chart of the Best Countries to Start a Business 2020, among 73 participating countries across the globe.
Thailand continues to improve its attractive schemes for FDI through many government initiatives to make the country to be easily accessible to foreign investors and reducing the 'red tape' process requirements. Over the past years, Thailand has benefited from this with steady improvement in the country's overall rankings as published by independent observers and displays a positive stance for foreign investors. 
Thailand's business-friendly environment, dynamic economy, reliable infrastructure, technology advances, and competitive costs all are key indicators for Thailand's prosperity.   
Contact us to schedule a free business consultation to explore opportunities in Thailand 
5. Government Support and Incentives for Foreign Investors
The Thailand Board of Investments (BOI) offers investors a wide range of different tax incentives as well as support services and import duty exemptions or reductions for activities that meet the national development objectives.
Companies that are able to receive investment promotion privileges from The Board of Investments (BOI) are not subject to foreign equity restrictions in the manufacturing sector and there are no local content requirements or export requirements due to the fact that Thailand's investment regime is in complete compliance with WTO regulations.
The Board of Investment also coordinates the activity of the One-Stop Service Centre for Visas and Work Permits, which makes it possible for foreign staff of BOI promoted companies to obtain work permits and long term visas within three hours or less.
In addition, administers the One Start One Stop Investment Centre are able to facilitate a full range of services and streamline investment procedures by bringing representatives from more than twenty different government agencies under one roof.
In addition to the activities of the BOI, other government organizations such as the Department of Export Promotion and international chambers of commerce provide people who are starting a business in Thailand with essential support and a whole host of other important services.
Startup in Thailand can advise on Investment opportunities in Thailand and how to get a BOI company registered.
Read More: How supportive is the Thai Government for business.
6. Long Established and Newly Emerging Industries
With steady economic development and strong support industries, industrial production throughout Thailand has grown and diversified rapidly both in long-established and newly emerging industries.
The government has identified a total of fifteen activities that are classified as activities of special importance and benefit to the country.
These activities are economic forest plantations with the exception of eucalyptus, creative product design, and development centers, manufacture of airframes, airframe parts, and major aircraft appliances, engines, aircraft parts, propellers and avionics, electronic design, software, production of electricity or steam power from waste or refuse-derived fuel; energy service companies commonly known as ESCO, industrial zones or technology industrial zones, cloud services, research and development, biotechnology, engineering design, scientific laboratories, calibration services and vocational training centers.
Projects that are founded around these activities will be granted corporate income tax exemption without being subject to a corporate income tax exemption cap.
Contact the Startup Specialists for setting up a business in Thailand.
7. Education and Healthcare Services
The education standards in Thailand are accepted by many international examining bodies and there are a large number of international schools and colleges in Thailand that offer world-class education, while the leading universities in the country constantly rank among the best in Asia.
In terms of healthcare, Thailand has developed an excellent reputation globally due to its internationally certified doctors and medical staff, and modern facilities and equipment. According to CEOWORLD's 2019 survey of 89 countries worldwide, Thailand's healthcare was ranked sixth-best in the world, beating out many renowned European countries like Spain, France, and Belgium as well as most other Asian countries except for Japan and South Korea. It scored 78.72 on the Health Care Index, which is a statistical analysis of the overall quality of a country's healthcare infrastructure, professional staff competence, cost, medicine availability, and government readiness.
A recent report of research by John Hopkins University also ranked Thailand sixth-best among 195 countries providing the strongest health security. Thailand was the only developing country ranked among the global top ten, and the first among Asian countries, scoring a total of 73.2 points out of 100. Supporting Thailand's medical profession across the country are 23 accredited institutions providing medical instruction
Most major cities and other prominent destinations in Thailand boast international hospitals where patients can receive Western-style care for a fraction of Western prices.
In fact, one of the fastest rising tourism sectors in Thailand is medical tourism, with international patients visiting Thailand to take advantage of the nation's world-class and extremely affordable health care system. Our sister concern Travel Motivations can help you to know more about medical tourism and how they can assist you to provide a comprehensive medical package combining all logistics and medical support.
8. Strong Corporate Governance
Thailand is recognized as being a leader in corporate governance and is applying similar principles to the public sector in order to enhance transparency and accountability.
In the Asia Corporate Governance Association's seventh joint report that was issued with CLSA on corporate governance in Asia, the in-depth 200-page report ranks 11 Asian markets on macro CG quality and 944 companies on their internal governance systems. Thailand ranks fourth, which is an impressive achievement for a nation of its size and location.
9. Key Advantages of Living and Working in Thailand at a Glance.
Many people who decide to start a company in Thailand do so because they are following their hearts and want to settle in this stunning country.
Here are some of the many things that make living in the land of smiles so special.
Impressive scenery including gorgeous tropical islands, jungles to explore and vibrant cities
Delicious cuisine
Vibrant nightlife scene
Excellent shopping opportunities
The famous Thai hospitality
Good infrastructure
Good access to talented Thai and foreign workers
Modern office spaces and equipment available
Excellent opportunities for connecting with local and foreign businesses
Great networking opportunities in various parts of the country
Excellent healthcare system and high quality of life
The Mercer 2019 Cost of Living Survey
The Mercer Human Resource Consulting Cost of Living Survey Worldwide Rankings 2019 showed that the city of Bangkok in Thailand received a ranking of number 40. This indicates that Bangkok's cost of living was significantly lower than Singapore, which is ranked as being the 3rd most expensive city in the world.
In fact, eight of the world's top 10 most expensive cities are located in Asia as a result of the region's high costs for consumer goods and a dynamic housing market. Hong Kong tops the list as the world's costliest city for the second consecutive year with the local housing market increasingly out of reach for many. Other cities appearing in the top 10 are Tokyo (2), Singapore (3), Seoul (4), Zurich (5), Shanghai (6), Ashgabat (7), Beijing (8), New York City (9), and Shenzhen (10).
10. Thailand's Demographics
Working Hours and Wages in Thailand
One of the things that make starting a business a viable option for international companies is the relatively low wages that have to be paid compared to in the western world.
Naturally, the minimum daily wage varies according to skill and experience, although the starting salary for most laborers if around $11.2 a day.
The maximum number of work hours per day is eight, while employees are permitted to work up to 48 hours per week.
Employees are permitted to work more than this as long as they are fairly compensated for their extra time and overtime compensation is paid at a rate of between one and a half to three times the usual hourly rate. However, average companies operate on an 8 hrs, 5 Days a week schedules.
Employees who work in a company in Thailand have entitled to a minimum of thirteen national holidays each year as well as a minimum of six days of holiday or annual leave after one year of consecutive work.
Thirty annual paid sick days are standard for employees in Thailand and an employer may ask the employee to provide a doctor's certificate for sick leave of three days or more. Female employees are entitled to ninety days of maternity leave, which includes 45 days of paid leave.
Thailand's Population
There are more than 69.43 million people living in Thailand and the population is comprised of various different ethnic minorities including Indian, Cambodia, Lao, and Chinese people.
One of the main advantages for people who want to start a business in Thailand is that these different minorities bring different skills into play and there are plenty of people with skills that are desirable among all different types of companies.
The population of Thailand represents 1.01 percent of the world´s total population which arguably means that one person in every 100 people on the planet is a resident of Thailand.
The literacy rate in Thailand is quite high and in recent years there has been an increased emphasis on education. The development of the Kingdom's human resources is its highest priority. 93% of the population is able to read and write in Thai, proving the literacy rate to be higher than most of the neighboring nations.
Most Thais are well mannered, honest, sincere, and easy to work with. As almost 95% practice Buddhism, working with them requires a cultural understanding and the shift from western work cultures might just give you an initial shock. Check out understanding Thai culture in Business.
Business Language
Most of the major universities in Thailand teach business English, which makes finding Thai employees who have the skills to do business and communicate clearly in English relatively easy.
Chinese and Japanese are also taught in many schools, while the number of graduates who have at least a working understanding of German and French is rapidly increasing. This makes doing business with other countries a lot easier and there is an increasing demand for students to study business both in college and university.
Having said that, the language barrier still prevails to a large extent. Apart from the upper mid-top management people, the rest of any organization speaks the Thai language only, making it often difficult for foreign companies to interact freely.
However, consulting companies like Startup in Thailand assist in bridging this gap and provide 360-degree service support to foreigners so that they can be successful in Thailand.
The Importance of Working with a Business Startup Consultant in Thailand
Foreigners who are planning to start a business in Thailand may find that there are several hurdles that need to be overcome before they are ready to start a business.
These include the fact that obtaining a Work Permit in Thailand is far from easy and it is essential to pay for professional legal services to help cut through the red tape. Many sectors are reserved for work by Thai nationals alone, so foreigners are restricted in the types of business they can run, so legal assistance can be sought on how to incorporate a business in Thailand.
Working with a professional, boutique business consulting company such as Startup in Thailand can help to smooth the way and the experts can help to define the things that need to be overcome and provide the knowledge and know-how to make this much easier.
Not only do they provide advice but can also handhold you to operate your business on long terms, with you or without your presence in Thailand, if you so desire. It is a professional management company to execute your visions in Thailand. 
Contact Startup in Thailand to schedule a free business consultation to explore opportunities in Thailand.
Startup in Thailand  is the only company in Thailand to provide a single-window solution for all business startup and expansion requirements: Startup Consulting | Thailand Market Entry | Legal assistance | Serviced Office | Factory Setup | Representation | Recruitment Services | Accounting | Operations | Buying & Sourcing | Distribution | Sales & Marketing | M&A | Regional Business Development | Management
Start a business in Thailand Infographic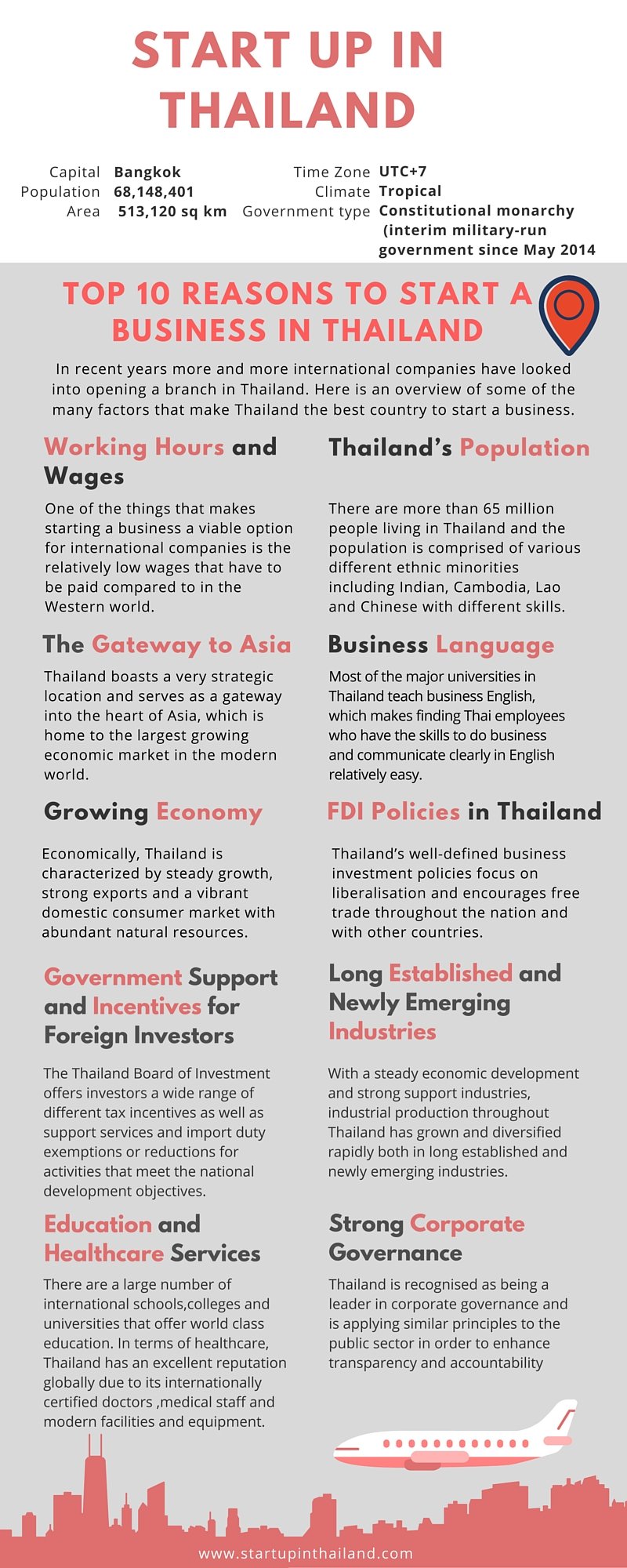 To use this Infographic on your website, copy and paste the embed code here.
Interesting Reads :