Thailand is increasingly becoming an excellent place to do business due to a large number of factors such as the country's relatively stable economy, Thailand's location in the heart of Asia, and the cheap cost of labor to name a few.
There are plenty of solid business opportunities in Thailand to take advantage of by both people who are looking to expand their existing company in their home country into Asia and those who are planning to start an entirely new type of business in Thailand. Here is a selection of ten of the best business opportunities in Thailand.
1. Import and Export Company
Thailand is one of the main transportation hubs of Asia and the nation shares excellent transportation links with countries throughout the region via air, road, rail and sea. There are lots of great options for establishing a successful import and export business in Thailand and the route that you choose to take will depend on your personal experience, connections, and preferences.
Many successful import and export companies in Thailand source products from their home countries that are difficult to find in Thailand such as brands of foods, drinks and other items and export them to Thailand. There are millions of expats currently living in different parts of Thailand and these products are highly sought after with expats and even local people, who are often being willing to pay much more for these products than they would in their own countries. Successful importers of these products are often able to establish strong connections with leading supermarket chains and other retailers so that these products can be stocked on their shelves to be available to the general public.
Thailand imported US$239.9 billion worth of goods from around the globe in 2019, up by 18.8% since 2015 but down by -4.4% from 2018 to 2019. Thai imports for 2019 represent 1.2% of overall global imports which cost an estimated $19.665 trillion one year earlier during 2019. 74.9% of Thailand's total imports by value in 2019 were purchased from fellow Asian countries.
The following product groups represent the highest dollar value in Thailand's import purchases during 2019. Also shown is the percentage share each product category represents in terms of overall imports into Thailand.
Electrical machinery, equipment: US$43.4 billion (18.1% of total imports)
Mineral fuels including oil: $37.6 billion (15.7%)
Machinery including computers: $29.8 billion (12.4%)
Gems, precious metals: $12.3 billion (5.1%)
Iron, steel: $12 billion (5%)
Vehicles: $10.7 billion (4.5%)
Plastics, plastic articles: $9.2 billion (3.9%)
Articles of iron or steel: $6.9 billion (2.9%)
Optical, technical, medical apparatus: $6.4 billion (2.7%)
Organic chemicals: $4.3 billion (1.8%)
Thailand's top 10 imports approached three-quarters (72%) of the overall value of its product purchases from other countries.
Exporting Thai products to other countries is also a great business opportunity. Again, it is important to thoroughly research the markets in the countries that you are interested in exporting products to in order to discover which Thai products are difficult to find and are likely to be in high demand. Agriculture is one of the top industries in Thailand and products like Rice, Sugar, Maize, Rubber, etc. head the list of exports. However, being the 20th largest export economies of the world, accounting for two-thirds of its GDP, Thailand has ample opportunities for entrepreneurs who wish to do trading business. Some popular types of Thai products that can be exported include Thai handicrafts, clothing by Thai designers, and food and drink products.  Here is a list of products that might be exported under the SME sector.
Import and export companies in Thailand that are also able to create their own products are able to maximize their profits and ensure that they are offering something truly unique. The main key to success with this type of business in Thailand is doing a lot of research to establish the best products to offer and establishing good transportation connections to minimize import and export costs.
As a buying agent in Thailand, Startup in Thailand offers a procurement & operation team with a dedicated Thai person to help to start or continue your company without difficulties. Read more about our Representation services in Thailand
This section shows forecasts for total product exports and imports for Thailand. The forecast is based on a long short-term memory model or LSTM constructed using yearly trade data.
Source: OEC.World.  The solid lines are Trades as observed while the dotted lines are predicted
Read More: Export-Import Industry of Thailand
2. IT Consulting Business
Thailand businesses are becoming increasingly aware of the need to be a part of the digital world and market themselves online in order to contend in the very competitive business world. More and more Thai companies are turning to professional IT consulting companies that can provide the full-service package of IT Strategy & Roadmap design, Digital Strategy, and Outsourcing Services in order to attract new customers and keep the attention of their existing customers.
There are lots of different elements involved in IT Services depending on the specific needs of the client and customized solutions are key to satisfy clients. Thailand is considered pioneer in animation, games, and mobile application development products. Apart from that, blockchain-based applications are also gaining substantial popularity.
Thailand's IT security spending is expected to climb 1.1% to 11.9 billion baht this year, with cloud security projected to see the highest growth, according to global research firm Gartner. Spending on cloud security in Thailand is projected to zoom 133% to 54 million baht this year, although the segment's purchase remains small in comparison to another spending. Network security equipment is expected to see the biggest decline in spending, down 11.8% to 1.4 billion baht this year. Customer spending on security software could drop 2.3% to 903 million baht, said Gartner.
A startup in IT security incubated by us 2 years back, Arahant Thailand, has built up its reputation in IT securities and consulting achieved a 200% growth in the last year. So definitely, IT security could be a promising business to do in Thailand.
People who have a solid background in IT technology will find that this is a very good opportunity to start a lucrative business in Thailand and the costs of setting up this type of company in Thailand are relatively low.
Read More: Thailand Digital Scenario and IT industry in Thailand 
3. Translation Services Business
A large number of foreigners and international traders doing business in Thailand leads to the ever-increasing need for translation services. Both individuals and companies consistently need to have important documents such as contracts and other types of legal documents translated from their own language into Thai and vice versa, this situation can provide good business opportunities in Thailand.
Although English is the main language for conducting business throughout the world, generally speaking, the level of English comprehension in Thailand is much lower than in other parts of the world. Therefore, most Thai companies require either an in house translator or have to regularly outsource translation work to a translation agency.
Now that Thailand is part of ASEAN, there is also an increasing need for Thai companies to also translate documents into other Asian languages such as Chinese, Japanese and Korean so that they can do business with companies in these countries.
Setting up a translation company is relatively easy and can be a very lucrative business opportunity in Thailand once you have established a talented team of translators, editors and marketers. Though there are many translations service is available in Bangkok but as an entrepreneur, you need to choose a place in Thailand where demand is higher and not so competitive as in Bangkok. As we build entrepreneurs, we always advise people to think out of the box with an extended vision of the business horizon.
Translators and editors can work for a fixed salary as part of the company, although when you are first starting out and trying to expand your client list, it is probably best to mainly use freelancers who work for a set rate per source work rather than a set salary per month.
Despite the potential to make serious money in the field of translation, there are surprisingly very few high profile translation companies currently doing business in Thailand. In addition, even the leading translation companies only tend to offer a limited number of languages. Therefore, newly established translation companies that are able to market themselves well, offer good rates for their services, and establish a large and talented team of translators and editors in a wide range of languages are almost guaranteed to succeed.
Read More: Legal Assistance in Thailand
4. Create a Catering Company
Eating and socializing while dining have long been important parts of the Thai culture. Most important business opportunities and decisions in Thailand are conducted while dining. This is also a very popular way for family members and friends to get together. However, many modern Thai people find that that they no longer have time for cooking large meals to entertain guests and many people tend to eat most of their meals outside of the home. This is especially true in large cities such as Bangkok and Chiang Mai where many people work long hours and live in modern apartments that have limited cooking options.
Therefore, catering companies are becoming increasingly popular in Thailand, both among middle and upper-class Thai people and expats. Catering companies are hired to provide catering for a wide range of different types of events such as wedding receptions, birthday parties, anniversary dinners, and retirement parties. Many corporations also hire catering companies for various events and have large budgets at their disposal.
Private catering has also become extremely popular in recent years and many people call catering companies to provide dinner for themselves and their family at the end of the day.
Thailand boasts a large pool of talented chefs and party planners as well as people who are experienced in all aspects of the hospitality industry. This makes it easy for catering companies that are set up to gather a team of staff that has what it takes to create delicious and imaginative menus that are sure to tempt hungry customers.
Thanks to the large number of companies that import western food and other products, finding the ingredients that are needed to put together dishes from all around the world are very easy. And due to the large number of expats living in Thailand, catering companies that offer international cuisines, are sure to do well.
Online food delivery services have also recently become more and more popular. Customers feel relaxed at home when they order and the food is delivered at the doorstep, with minimum efforts.
As an entrepreneur to open a catering business, you must understand the importance of the production of food and it's processing conditions. All your staffs need to be trained as well so they respect the hygienic norms of food processing using relevant tools and utensils. A catering business must obtain a food license from the Food and Drug Administration of Thailand (FDA). The main legal body which is responsible for quality control is the Ministry of Public Health and businesses should adhere to their norms. 
There is a huge potential for the catering business because most of the people in Thailand do not prefer to have home-cooked meals.  
According to NSO's survey of Thai household expenditure on food, Thai household spending on eating out and takeaways grew by approximately 3% per year between 2009-2018, as compared to household spending on self-cooked meals which grew only by 1% per year during the same period.
At present, the catering business has surged owing to the growing number of international visitors, domestic travelers, rising number of wedding ceremonies in the country including a growing number of meetings, incentives, conferences, and exhibitions (MICE) events being hosted in various regions of Thailand.
Schools, universities, and other education institutes could be another potential area where catering needs are in high demand. If you can emphasize more on the quality of food, meeting the nutrition demands at an affordable price, then this sector could hit the jackpot for you. However, you need to be careful about food hygiene as special monitoring is done by institutions as they are responsible for the food intake of students.  You should be able to match their needs for special, flexible catering needs like utensils and timely arrangements to produce during lunch meals, snacks, and refreshments. 
As per Ken Research report, Thailand catering Industry is projected to grow at a robust CAGR of 20.7% during the period 2017-2022. The total number of MICE travelers for various corporate events augmented from 5.2 million in 2012 to 37.2 million in 2017.
According to Euromonitor's research, food services business revenue in Thailand had a constant average growth rate (CAGR) of 4% per year between 2013-2018 and it continues to follow the trend. 
The catering business scope is tremendous if you select the right cuisine and target customers. 
StartupinThailand would be glad to assist you with initial handholding and support in operating your catering business if you so desire. We take care of all your business requirements including  location scouting, startup consulting, legal, marketing, branding, operation etc so as to provide you with all  'Just as you need'
Read More: Initial Steps for Starting a business in Thailand 
5. Real Estate Company
The real estate sector in Thailand accounts for 6% of Thailand's GDP and is significant for Thailand's industry growth as it supports increasing levels of employment and income.
Buying and selling land is big business in Thailand and the cost of real estate throughout the country is constantly rising and can provide great business opportunities. Foreigners who wish to purchase a business, a property or a piece of land often find that the process is rather long and complicated. For this reason, they often turn to a real estate agent, who will take care of the purchase for them for a fee.
People who are interested in establishing a real estate business in Thailand will find that there are plenty of great opportunities across all parts of the country and there's lots of money to be made. The secret to success is hiring a competent Thai team who can liaise with Thai owners and help to make sure that every aspect of the sale goes smoothly.
Both Thai and foreigner owners who wish to sell their real estate also often make use of a real estate agent to help find the buyer for them and in exchange for this service, they will pay a commission. This commission is usually ten percent of the asking price and in the case of large resorts and hotels that sell for millions of baht, the commissions can be extremely high.
The main task of the real estate agent is advertising properties to put them in the best possible light, meeting with potential buyers, and showing them the properties. People who have a strong background in sales and marketing combined with plenty of energy and the drive to make money are likely to find that they thrive in this type of business in Thailand.
Here is a graph for you to see how Thailand has fought back during difficult economic times and also some data related to the market segmentation of foreign buyers.
Read more: What is the Real Estate Scenario in Thailand  
6. Healthcare Services Business
At a time of intense global nervousness about rapidly spreading diseases such as the coronavirus, Thailand ranked 6th out of 195 countries in the inaugural Global Health Security Index which measures a country's ability to respond to epidemics, pandemics, and other health emergencies. Incidentally, Thailand ranks 1st in South East Asia and 2nd in the world for COVID-19 recovery competence. 
There is a booming demand for first-rate medical care in Thailand among Thai people, expats, and people who travel to Thailand for business and pleasure. Thailand has established itself as one of the best countries in Asia for professional healthcare and there is no shortage of trained physicians, pharmacists, surgeons and nurses to be found. However, with its booming population and rising demands regarding the standards of healthcare in Thailand, there is plenty of business opportunities in the Thai market for more healthcare services.
Thailand, as the second-largest economy in South East Asia, is poised to make its mark in the $2.3 trillion global medical device industry. 
In 2019, the value of the Thailand medical device market rose to 176 billion baht (US$6 billion) – a 70 percent increase in the past decade, according to Thailand's Office of Industrial Economics. Thailand ranks ahead of Singapore as the most important importer and exporter of such products in the ASEAN.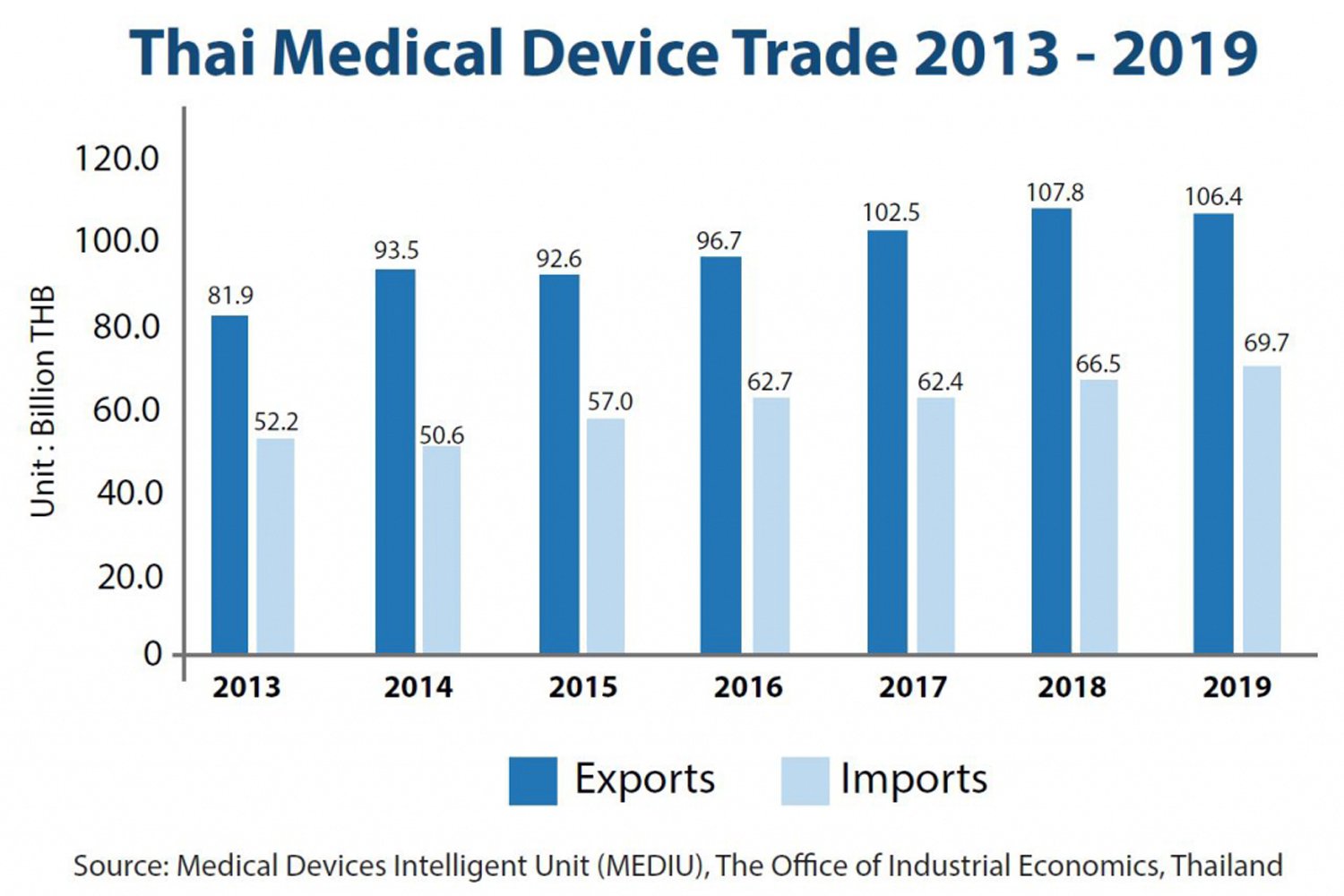 There is speculation by Krungsri that the annual growth of the Thailand device market would increase by 8-10% in the next couple of years.  
Thailand has almost 1400 hospitals and medical facilities, 378 private establishments and 66 JCI accredited medical institutions, which makes Thailand number one in South Asian country and 4th highest number of US credited hospitals in the world outside the USA.
Medical tourism is also a big business opportunity in Thailand. Many people travel from countries such as the USA or Australia, where the cost of medical procedures is high, to take advantage of the relatively low costs in Thailand. Some of the types of medical procedures that are particularly popular among medical tourists include dental surgery, cosmetic surgery, and breast augmentation.
Around 3.5 million medical tourists come to Thailand each year, according to official estimates. Those visitors spend close to $600 million, making Thailand the world's fifth-biggest medical tourism market, according to the World Travel & Tourism Council.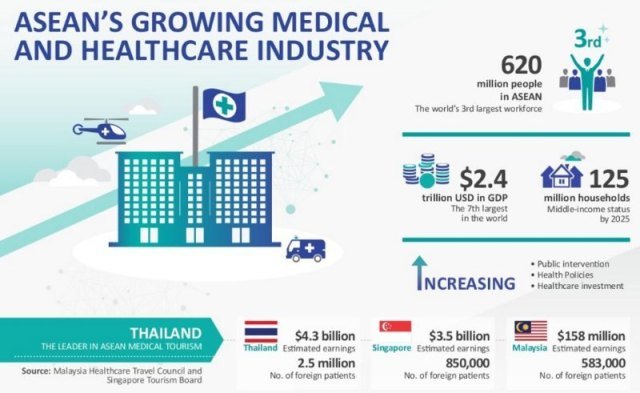 The global medical tourism market size is expected to reach USD 131.35 billion by 2025, according to a new report by Grand View Research, Inc., expanding at a CAGR of 20.24% during the forecast period. The growing geriatric population coupled with improving accessibility of high-quality and low-cost medical services/procedures are likely to augment the market during the forecast period.
Companies that are able to appeal to international clients and provide fully tailor-made packages that include excellent aftercare services are sure to find that this is a very lucrative business in Thailand for foreigners and Thai nationals.
As an entrepreneur, we would advise you to focus on either on Medical tourism or trading of medical devices as both have a great potential in Thailand. In case of any assistance Startup in Thailand is available for a comprehensive consultation.
Read More: Investment opportunities in Thailand,
7. Opening a Resort
Thailand has long been one of the world's most popular holiday destinations and millions of people travel to Thailand from all over the world each and every year. Although the image of Thailand was once a budget destination that was popular with backpackers and other types of shoestring travelers, the country's booming economy and rapidly increasing infrastructure. That means that these days Thailand is becoming more and more popular among more affluent travelers who demand nothing but the best when they are away from home while they are doing business in Thailand.
The hotel industry (which here includes hotels, resorts, and guesthouses) is directly connected to the tourism sector. In 2018, hotels and restaurants combined accounted for 5.6% of Thai GDP, bringing in THB 920 billion.
The most important tourist markets for Thailand are China, Malaysia, India and Russia.
China: With 10.5 million Chinese tourists coming to Thailand last year (27.5% of all foreign arrivals), China is Thailand's most important tourist market (data for 2018, Table 2).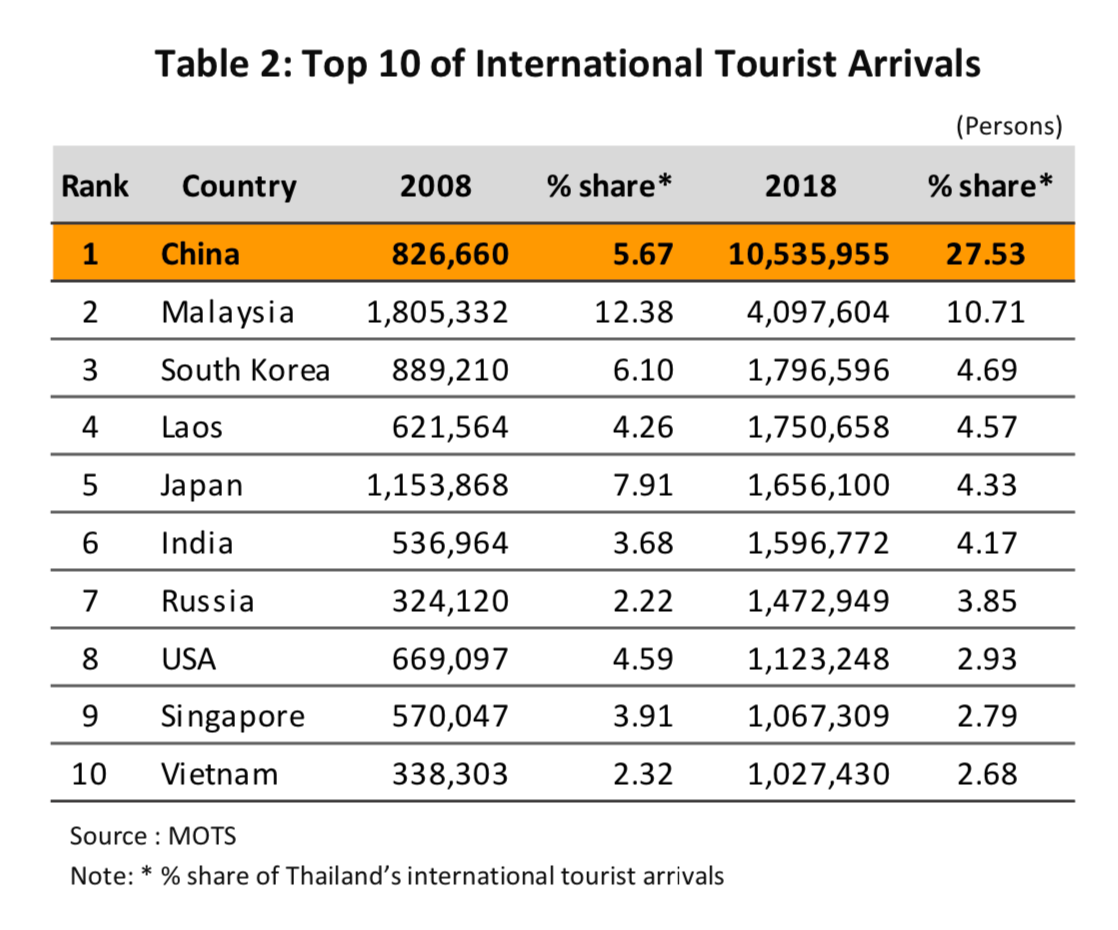 This means that Thailand is a great place to open a luxury resort. There are still many enchanting islands in Thailand where prime pieces of beachfront real estate are available to purchase and companies that have connections with major hotel chains in their own country will have the opportunity to establish either a branch of the hotel in Thailand or set up an entirely new branch.
Because hospitality is a major industry in Thailand, finding fully trained and qualified staff in Thailand is relatively easy, while international companies also have the option to transfer various existing staff members from their own country to oversee the running and marketing of the resort.
With good branding, marketing, and quality services, it is possible for a company that decides to open a resort in Thailand to enjoy substantial profits, and the abundant sunshine and gorgeous scenery in Thailand mean that tourists visit the country all year round.
Krungsri Research estimates that over 2019-2021, hotel business will see growth in step with the wider tourism sector, and foreign arrivals will rise by 5-7% and internal tourism by 3-4% per year (Figures 13 40 and 14). This would lift the average occupancy rate.
As a leading business consulting firm in Thailand, Startup in Thailand can assist you to find the right resort to take over or start a new venture as you need, providing all the Legal assistance necessary. 
Read More: Startup Business Options
8. Travel and Tour Companies
Thailand has one of the most developed tourism markets in Asia. The 'Land of Smiles', is known for its hospitality, beautiful beaches, historical places and eco-attractions, its world-famous cuisine, good infrastructure, and affordable accommodation. 
The tourism industry is one of Thailand's main economic sectors, accounting for 6-7% of its GDP.
Many tourists who travel to Thailand arrange package tours in their own country and in recent years that has been a surge of international companies opening branches in Thailand so that they can serve their customers on both sides of the world. While there are many Thai companies that offer travel and tour services in Thailand, one of the main advantages for international companies is that they are able to offer services that cater to the unique needs of their international clients, including guided tours in their language of choice.
 The number of visitors in Thailand is expected to increase in the coming years to more than 40 million by 2020. Most visitors will continue to come from the Asia Pacific region (31.2 million in 2020), followed by European tourists (5.7 million in 2020). 
In the last few years, there has been a dramatic rise in the number of Russian and Chinese travelers coming to Thailand, and tourists from these countries tend to have much more money to spend than Thai tourists and prefer travel packages where all of the details are taken care of for them.
International companies that are able to establish strong business connections with the travel industry in Thailand will be able to offer their clients the best rates around combined with a first-rate service that is sure to meet their high demands.
Get in touch with  Startup in Thailand for getting necessary Legal assistance for Starting a business in Thailand 
9. Automobile Rental Business
Despite the large numbers of people who travel to Thailand each year both for business and pleasure, there are relatively few vehicle rental companies to choose from and this presents a real gap in the market that is just waiting to be filled by a company that is searching for a business opportunity in Thailand. Purchasing both new and second-hand vehicles in Thailand is relatively easy as major car dealerships can be found throughout the country.
Automobile rental companies in Thailand will find that there are plenty of prominent places for them to set up hire booths such as at the country's major airports, at train stations, and even at some of the country's leading hotels.
There is a lot of scopes to develop this type of business in Thailand and even establish connections with international companies in their own country. Travelers who are given the option to book their vehicle online in advance and collect it when they arrive in Thailand will feel secure that all of their travel details have been taken care of in advance and they will be saved the hassle of sorting out transportation when they land in Thailand.
Another good opportunity for companies who are interested in establishing automobile rental in Thailand is to offer vehicle rental with a driver. This is ideal for travelers who want to explore the country at their own pace without having to make use of public transportation but do not have an international driver's license or want to save themselves to hassle of having to drive while on holiday.
Supplying a professional driver along with the vehicle diminishes the risks involved for automobile rental companies as they can be sure that the vehicles will be in safe hands. this type of service can also be useful for short trips such as sightseeing around cities or taking local people to parties and other types of events where they need to arrive in style.
Read More: Thailand Market Entry, Startup Options 
10. Jewelry Business

Thailand is considered one of the world's most prominent centers for gems and jewelry. The richness traces back in history as Thailand has abundant natural resources, especially ruby and sapphire found extensively in the nation. Experienced craftsman has been handing over their skills over generations to make this industry prosper. 
At present many production facilities are located in tax-free zones such as Gemopolis, on the outskirts of Bangkok. Here, foreign companies benefit from strong infrastructure, easy procurable raw material, and a skilled workforce capable of highly efficient craftsmanship. 
Silver and semi-precious stones are readily available in Thailand and the costs for these materials tend to be much cheaper than in many other countries around the world. There are lots of flourishing silver mines in the north of Thailand, while gemstones are typically mined in the west of the country, especially close to the Burmese border.
The relatively low cost of raw materials combined with the high demand for unique and attractive jewelry both among Thai people and Westerners makes establishing a jewelry company in Thailand an excellent opportunity to start a business in Thailand. The nation boasts a large number of talented artisans who are able to create intricate pieces of jewelry both on a wholesale basis and according to the specifications of individual clients.
Mr. Somdet Susomboon, DITP Director-General, said: "Thailand's gems and Jewellery industry offers all gems and Jewellery-related products from upstream to downstream and has high potential. Thailand is now one of the top ten Jewellery exporters in the world, and in 2018, three product categories in the industry had a significant market share among international markets, including Silver Jewellery in which the value of exports from Thailand is the highest worldwide with a market share of 23.8%; Coloured Stones in which the value of exports ranks third worldwide with a market share of 11.9%, and; Imitation Jewellery in which the value of exports ranks sixth worldwide with a market share of 5.9%."
"With its various strengths, Thailand's gems and Jewellery industry has the potential to become the world's jewelry hub. Thailand possesses manufacturing expertise whereby Thai artisans have the skills and the intricate craftsmanship to create products that are recognized around the world. Moreover, Thai business operators are skilled in trading, quick to adapt to market conditions, and skilled at seeking raw materials, designing jewelry, manufacturing, marketing, and catering to customers' needs."
In the last few years, a small number of international companies have established their own companies that source designs from their own country and market them in Thailand. One of the main advantages of doing this is that the cost of labor and setting up a workshop in Thailand tend to be much cheaper than in Western countries, while clients in Thailand are also given the choice of designs that they may not be able to find anywhere else in Thailand.
Successful jewelry companies that manage to establish themselves in Thailand also have the option of moving into the import and export business so that they can send their unique pieces of jewelry such as rings, bracelets, earrings, and watches to major suppliers that are located in their home country as well as other countries around the world.
Of course, when establishing a new company in Thailand there are a lot of different things to take into consideration, not least of all any legal issues that may arise as well as hidden problems that might be difficult to identify straight away. For this reason, it is essential to enlist the services of a business consultancy company such as Startup in Thailand
They provide you with professional advice on a wide range of aspects such as the types of Legal Assistance in Thailand that you need for yourself and your staff, business opportunities, and important resources, while we also provide legal advice and business development to help your new business grow and thrive.
Not only do they provide advice but can also handhold you to operate your business on long terms, with you or without your presence in Thailand, if you so desire. It is a professional management company to execute your visions in Thailand. 
Contact them to schedule a free business consultation to explore opportunities in Thailand 
Startup in Thailand  is the only company in Thailand to provide a single-window solution for all business startup and expansion requirements: Startup Consulting | Thailand Market Entry | Legal assistance | Serviced Office | Factory Setup | Representation | Recruitment Services | Accounting | Operations | Buying & Sourcing | Distribution | Sales & Marketing | M&A | Regional Business Development | Management
Few Interesting Reads: